Sugar's Weekly Scoop
Issue #3 (2015): August 30, 2015

[Click to show]
Club Penguin Updates

Hey everybody welcome to the third issue of Sugar's Weekly Scoop! The Fashion Festival is in full swing and Dot is visiting the island! Non-members can choose to participate in one theme, while members can enter all of them as long as they have tickets, which can be obtained from voting for other penguins' styles. Most of the island is decked out as well as a semi-secret area, the Epic Wave, which you may remember from the Teen Beach Movie Summer Jam in 2013, which is accessible from the bottom right corner of the Plaza.


FUN FACTS


Rockhopper has sunk the Migrator 3 times?

The outfits with the highest number of likes for each theme during the Fashion Festival will be displayed around the island from September 11 to September 18?

The Plaza has been redesigned 6 times, the most of all the rooms in Club Penguin?
Interview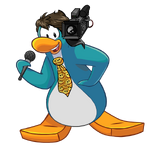 Our special guest today is the kewl Techman129!
Question : Favourite item released this year?
Techman129 : *cough* DAMN YOU BIGGEST CATALOG *cough* But yeah...they all suck.
Question : Favourite party in Club Penguin?
Techman129 : Probably..hmm..Idk. Oh I know, my first party, the Dance-A-Thon.
Question : Least favourite takeover?
Techman129: Obvious one here. Wait, nvm. Oh, I know again. I know it is a future party, but Descendants Party sounds pretty bad.
Question : Do you like the changes The Journey has made to Club Penguin?
Techman129 : Absolutely, except the removal of the Stage. Still waiting on CPNext though.
And that's it for this interview. Thank you very much for your time, Tech :D
Comic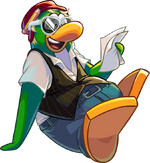 Hello and welcome to a new section, the Comic section! A new comic will appear every issue and from time to time, comics will be released in several parts. Enjoy!
More
And that wraps it up for this week! I hope you are enjoying the Fashion Festival and if you have any suggestions or anything you want to tell me, please let me know in the comments below! And until next time, waddle on!
Community content is available under
CC-BY-SA
unless otherwise noted.