Hey Guys!!
I'm making this blog post, as I think there is information of a new possible Party Hat.
So in the end of #WaddleOn Episode 10: Find your Voice, you can see there is a Red Penguin with this hat.
Here is a picture of a Comparison with the New Possible Party Hat and the Beta Hat.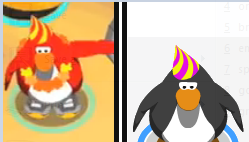 So what do you think?
Do you think this is a new party hat that could come soon?
Leave your thoughts below!
-Twinkie102
Community content is available under
CC-BY-SA
unless otherwise noted.