Welcome to the Club Penguin Wiki, Amaru333!
Hi there! Welcome to the Club Penguin Wiki, the free online encyclopedia all about Club Penguin! We hope you enjoy your stay here.


Here are some things that may help you get started:

User page - All users have their very own user page. Your user page is where you can write about yourself, your penguin, and many other things.
User talk - All users have their own talk page. User talk pages are used to receive messages from others. You can also leave messages on other users' talk pages. You can add your signature by typing 4 tildes (~~~~), or by clicking the button on the edit bar to do the same thing.
The wiki also has a forum and a chat, where you can start discussions about Club Penguin, editing, about the wiki, and other subjects.
Also, make sure all the actions you do- editing, commenting, chatting, etc., are following the wiki's policy.
You can also modify some of your account settings such as your signature at Preferences. If you want to learn how to make a cool signature, click here!
Other help pages may be found here.

If you have any questions, feel free to ask an

administrator

.
We're always happy to help!

Penguin-Pal (talk) 14:39, November 26, 2013 (UTC)
Making Cut-outs of Images
Hey there! So I hear you want to make some cut-outs so you can contribute to the Wiki! I think I can help you with this. I was trying to learn this a little while ago, and I had some problems learning it as well, so you don't have to worry about anything. :)
Okay, let's take this step by step.
01. Find (or create) an image that includes the item you wish to cut out. It's always best to get a .PNG file, since that's the highest quality of picture file that's commonly available.
02. Open up a image-editing software [I recommend anything from Adobe (like a version of Photoshop), GIMP, and Paint.NET].
03. In the software, find a selecting tool. I enjoy using the magic wand tool and similar tools.
04. With this tool, select all the area that you want to remove. This will make it transparent, not completely gone, so when you remove it you'll see a checkered design. To make the area that you've selected transparent, just make sure everything you want to be selected is selected, then press the "Delete" on your keyboard.
05. You now have an image that is cut-out! If you want to do something extra, use the Cropping Tool to snip the image on the most important part of it--your cut-out!
Hope this helps, and if you have any more questions don't hesitate to ask.
--Ocean6100 (talk) 21:37, January 16, 2014 (UTC)
Hi
Hi Amaru333 its me Cool Pixels (Mr.CP) of CPI.

Cool PixelsTalk 13:52, March 17, 2014 (UTC) 07:25, March 18, 2014 (UTC)
RE:SWFs
Hi Amaru,
I have no experience with creating flash files, so i'm afraid i'm not the right guy to ask this question. Perhaps you might find your answer in Adobe's Flash Professional Forum.
Penguin-Pal (talk) 09:29, March 29, 2014 (UTC)
Re:Hi
I sent you the link.

Cool PixelsTalk 16:39, April 7, 2014 (UTC)
Re:Re: Hi
Did this work? [1]

Cool PixelsTalk 08:11, April 8, 2014 (UTC)
Re:Hey!
Actually I use Macromedia Flash 8 Professional.

Cool PixelsTalk 08:48, April 13, 2014 (UTC)
Re:Re:Re:Hey!
I dont know about CS6 but i will try to find it.

Cool PixelsTalk 16:29, April 13, 2014 (UTC)
Happy Earth Day!
Hey its your friend Cool Pixels and this an Earth Day Greeting Card for you and Don't forget the Three Earth Day Words Reduce, Reuse and Recycle!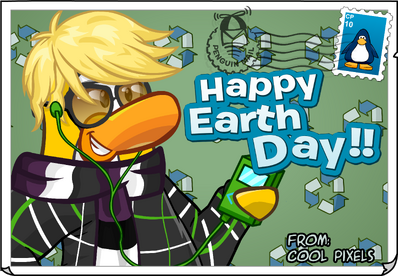 Reduce, Reuse and Recycle!

05:56, April 22, 2014 (UTC)
Videos
Hi Amaru333 can i know how do you create cp videos.
Community content is available under
CC-BY-SA
unless otherwise noted.