Welcome to the Club Penguin Wiki, CDE1!
Hi there! Welcome to the Club Penguin Wiki, the free online encyclopedia all about Club Penguin! We hope you enjoy your stay here.


Here are some things that may help you get started:

User page - All users have their very own user page. Your user page is where you can write about yourself, your penguin, and many other things.
User talk - All users have their own talk page. User talk pages are used to receive messages from others. You can also leave messages on other users' talk pages. You can add your signature by typing 4 tildes (~~~~), or by clicking the button on the edit bar to do the same thing.
The wiki also has a forum and a chat, where you can start discussions about Club Penguin, editing, about the wiki, and other subjects.
Also, make sure all the actions you do- editing, commenting, chatting, etc., are following the wiki's policy.
You can also modify some of your account settings such as your signature at Preferences. If you want to learn how to make a cool signature, click here!
Other help pages may be found here.

If you have any questions, feel free to ask an

administrator

.
We're always happy to help!

Penguin-Pal (talk) 16:36, August 18, 2013 (UTC)
Happy Easter
Happy Easter from Dps04!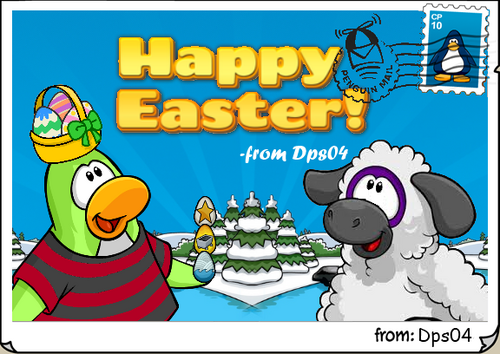 --

Dps04talk 17:04, April 6, 2015 (UTC)
File Names
Hi, CDE1.
Thanks for adding content to the wiki. However, please use more descriptive file names rather than just "Picture12.png", "Picture13.png", etc. Choose file names that describe what the content of the file is about. If you need help with anything, just ask.
Thanks,
--Hey.youcp

21:51, June 27, 2015 (UTC)
Oh ok, sure. Still learning the basics of Wikia and stuff.
Char cats
[late reply intensifies]
While yes, such a thing does definitely need a cleanup job, (get a cleanup job!) I believe categories like such are added through templates, which could be tricky to work with. Also, personally, I am not even sure why we have pages for characters from other Disney branches that have not even appeared in CP, but just have had costumes based off of them available. I do not really understand why such pages exist. Someone must have been really bored or obsessed with Disney to have made them. Maybe they should be casually and slowly phased out of existence, and nobody would know.... mwahahahahaha...
But yeah, we have a bunch of silly categories, especially for characters, like "People" (even though no humans exist in CP...) and repetitive and silly ones too that I think are the result of some certain... category-savvy users. They really should be cleaned up, but I have my hands full so the cleaner upper will not be me :(
–Watatsuki

02:59, July 17, 2015 (UTC)
Dot
While I appreciate you believing that my custom Dot is her official art, as you can see under "Sources and references" on Dot, that is her new design accordingly to app files.
Community content is available under
CC-BY-SA
unless otherwise noted.