Welcome to the Club Penguin Wiki, CloverPatch!
Hi there! Welcome to the Club Penguin Wiki, the free online encyclopedia all about Club Penguin! We hope you enjoy your stay here.


Here are some things that may help you get started:

User page - All users have their very own user page. Your user page is where you can write about yourself, your penguin, and many other things.
User talk - All users have their own talk page. User talk pages are used to receive messages from others. You can also leave messages on other users' talk pages. You can add your signature by typing 4 tildes (~~~~), or by clicking the button on the edit bar to do the same thing.
The wiki also has a forum and a chat, where you can start discussions about Club Penguin, editing, about the wiki, and other subjects.
Also, make sure all the actions you do- editing, commenting, chatting, etc., are following the wiki's policy.
You can also modify some of your account settings such as your signature at Preferences. If you want to learn how to make a cool signature, click here!
Other help pages may be found here.

If you have any questions, feel free to ask an

administrator

.
We're always happy to help!

Hey.youcp (talk) 07:33, November 13, 2013 (UTC)
Beta Account Minto
Looks like he got disabled http://prntscr.com/24r22n

Jnk9

12:21, November 17, 2013 (UTC)
Fire
Come and fire up and become a black puffle. Black puffles RULE!!! --Kanpo1 (talk) 10:00, February 11, 2014 (UTC) Kanpo1 (talk) 10:00, February 11, 2014 (UTC)
Warning
Hi Clover Patch,
I've been informed that you edited the chat logs. Please note that the chat logs provide a reliable source for past chat discussions, and therefore, i'd have to ask you never to tamper with chat logs again. Any further chat logs modification could result a block.
Penguin-Pal (talk)
Summer Shenanigans 2014!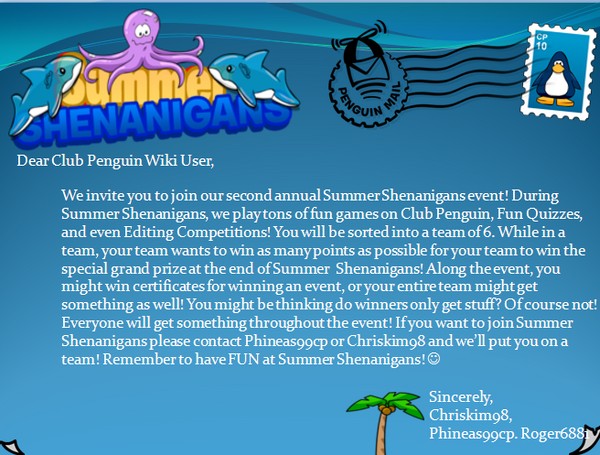 01:27, May 31, 2014 (UTC)
Community content is available under
CC-BY-SA
unless otherwise noted.