Welcome to the Club Penguin Wiki, CustardBird!
Hi there! Welcome to the Club Penguin Wiki, the free online encyclopedia all about Club Penguin! We hope you enjoy your stay here.


Here are some things that may help you get started:

User page - All users have their very own user page. Your user page is where you can write about yourself, your penguin, and many other things.
User talk - All users have their own talk page. User talk pages are used to receive messages from others. You can also leave messages on other users' talk pages. You can add your signature by typing 4 tildes (~~~~), or by clicking the button on the edit bar to do the same thing.
The wiki also has a forum and a chat, where you can start discussions about Club Penguin, editing, about the wiki, and other subjects.
Also, make sure all the actions you do- editing, commenting, chatting, etc., are following the wiki's policy.
You can also modify some of your account settings such as your signature at Preferences. If you want to learn how to make a cool signature, click here!
Other help pages may be found here.

If you have any questions, feel free to ask an administrator.
We're always happy to help!

Shurow (talk) 17:38, April 19, 2016 (UTC)
RE: About your Status
Thanks for that. I'll change that right away.
We're gonna heat things up here on this isle... (talk) 17:47, April 26, 2016 (UTC)
Need you on the IRC!
GET ON DEH IRC!!! LIEK YOU MEAN IT!!!! Just go to the irc, please. No one's on but Callum, and he isn't saying anything, i'm so bored. 12:16: I'm back on the IRC, still no one to talk to, please get on the IRC
We're gonna heat things up here on this isle... (talk) 18:25, May 9, 2016 (UTC)
My Other Message
Did you get my message to you on Club Penguin Wiki Drama Wikia? I don't want to post it on here. Too much users stalk each other! Apj, don't look at this. I hope you read my other message!

Sharkz Rule!
19:47, August 7, 2016 (UTC)
Happy late birthday!
😃😄🎂🎉🎊🎁
•?((¯°·._.• άмάήȡά47 •._.·°¯))؟• (talk) 21:49, August 15, 2016 (UTC)
The Weekly Custard interviews
I'm not sure if you saw my comment on the latest Weekly Custard but if you didn't, how does the interviewing system work? Do you send the user a list of questions?

Sharkz Rule!
18:52, August 18, 2016 (UTC)
My Interview
Yep. That could work!

Sharkz Rule!
21:43, August 18, 2016 (UTC)
Chat
Custard, I need you to come on chat right now. And when you're on, say "!updatelogs" and read the logs. The user is not a sockpuppet of anyone on this wiki but they did say something inappropriate on the chatroom.
 The Ninja5 Empire (Talk) 10:23, August 20, 2016 (UTC)

Subject Here
The actual truth:
someone hacked me and made me behave like bluebird tweedle and dragon on pvz chat.

So please unban me from chat. Yoshi Fan 600 06:35, August 21, 2016 (UTC)
Status
This is a bit late but I'll be online now!

Sharkz Rule!
18:55, August 23, 2016 (UTC)
Answers
1. The wiki's state isn't looking too good. We lost many users, making most of the wiki empty. I remember some old sections on this wiki that we used but this year it is either gone or ignored. A blog I created in 2014 had over 100 comments (even if most of it was just spam and hate comments) but now a blog only has up to 10 comments. We had some old users return this year but the wiki is still in a bad state. Our future isn't looking too great and I even heard about a user who has started making a project to get the wiki back on track!
2. I wanted users to be surprised and everyone was. Everything worked exactly how I wanted it to.
3. 2013-2014 because that was the start of The Puffle Planet! The wiki was also really successful and it had a lot of amazing users (who are now gone) including Kallie, Chris, Nintendo, Unknown, Sharkbate, etc. Wata was also a good friend of mine during this time but now I just yell at him. :(
4. POTM is alright since it rewards users for their good actions on this wiki. If it gets removed, maybe I'll be glad though.
5. The vote pages are very useful because we get to hear great ideas of how to change the wiki leading into fixing many of our problems. It is better than using polls since people can actually express their thoughts in the Comments section.
6. I feel like we should get a new admin to replace Callum. Some admins don't always answer our questions meaning we should get a user (possibly with rights) who actually does this. Maybe a new admin could impact the wiki as well.
7. I don't think so. I think I was an alright chat moderator when I was TPP but I'll stick to having no rights. If I was CM though, maybe I wouldn't be banned right now since I would have taken things more seriously on chat. Chat moderating was stressful sometimes and my recent chat bans are keeping me down. Who knows though?
hey
sup, name's dororo111122, how ya been?
Dororo
Unban Request
Please unban my account from the chat, as I did nothing wrong to merit the ban you gave me. None of my chat was disrespectful, and I only linked to a documentary on Youtube.
FlamingHawk (talk) 23:29, September 22, 2016 (UTC)FlamingHawk
phone sucks
For whatever reason my phone suddenly doesn't insert keyboard typing
ah whatever school starts in 5 minutes anyway

22:36, November 7, 2016 (UTC)
yoshi has a good news
My motto is: "My favorite vowels are: I. O, and U." 11:31, December 7, 2016 (UTC)
Happy Holidays by Dps04!
Dps04 wishes you Happy Holidays! Merry Christmas, and a Happy New Year!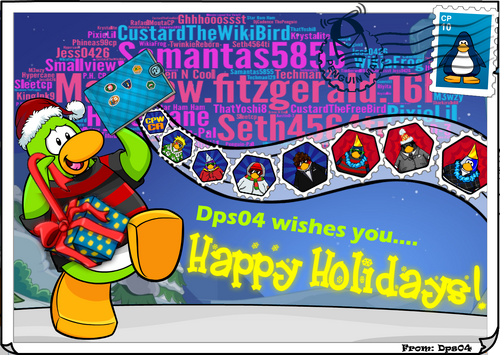 Dps04talk 05:37, December 18, 2016 (UTC)
Re: Thanks!
No problem, you deserve it! Keep giving to the community and it will give back (well, ideally anyway).

--Hey.youcp

06:04, December 21, 2016 (UTC)
Merry Christmas from -TwinkieReborn-!
Merry Christmas, and a Happy New Year from -TwinkieReborn-!
Twinkie, King of the Sandwiches. 19:44, December 21, 2016 (UTC)
Subject Here
pls unban moi! my brubber got a hold of my compoooter!!!!! his nem was Shain, PLS UNBAN MOI! -alweys and furever, Jonifor Morie Doruhbund
Happy Holidays!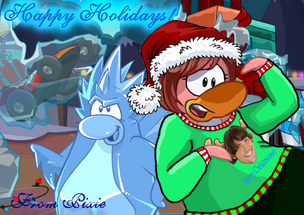 -Pixie is definitely not a little pixie! 16:17, December 25, 2016 (UTC)
Zzrt!
Each of its heads has its own will. They use telepathy to discuss their plans before coming to a joint decision. My motto is: "My favorite vowels are: I. O, and U." 08:09, January 10, 2017 (UTC)
Kinda rude
Other mods were letting me stay for the day. Guess you didn't listen to me an de the others before banning me? Thanks, jerk :D
DirectorAA3 (talk) 22:50, January 31, 2017 (UTC)
I Want
Hi, Custard. I'd like your modrator stuff. I'm soul... To be continued
                                                             -By Battle Classical

Congrats on admin promotion Cure Custard! :D
You totally deserved it! Signed,
It's the Krystalshack! 18:50, April 23, 2017 (UTC)
)
Happy Halloween from Jaden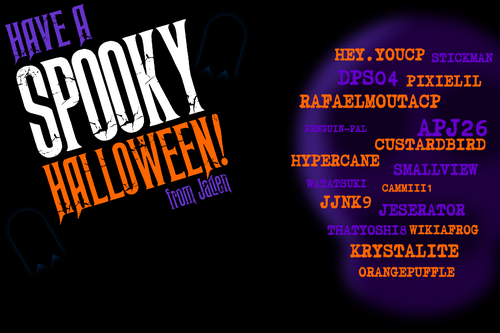 -тωιηкιεяεвσяη- 03:59, October 31, 2017 (UTC)
Season's Greetings from Dps04!
Dps04 wishes you Merry Christmas, and a Happy New Year!