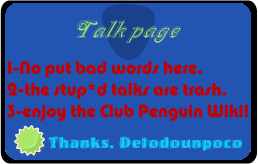 Subject Here
Message here.
–Watatsuki

01:24, May 23, 2016 (UTC) Hello friend. The reason I deleted it is because, while yes, there was indeed a banjo in Club Penguin, that is all it is. It is not an item, or an object of significance. It was just something part of a hunt. Unless we are going to decide to make pages for paper boats, pieces of candy, plants, objects that contain liquid, eggs, a whale, fruits, trash, things that produce heat, chunks of cardboard, and lightbulbs, I really see no need to make a page for such a thing.
–Watatsuki

01:26, May 23, 2016 (UTC)
Community content is available under
CC-BY-SA
unless otherwise noted.