Hi
Hey dude. When u come bak,could we be friends?
11:38, August 25, 2013 (UTC)
Yes! I have a new dream to become friends with all the users on wikia now, even my worst enemies!
ѕρα∂єѕ ѕℓι¢к∂σяσяσ нєι¢нσנσнη єgвєят∂zєяσχтнє вℓσѕєя Bow down to me or suffer the consequences!
Umm...
I can't help but notice you said you are 13 in less than a day, but your thingy at the top says you were born on September 8th...
Anyways,I look forward to you being unblocked. I know what extensive blockings feel like. Be happy your account wasn't disabled.
So, again, I can't wait for you to return and have a great day :)
123kitten2 (talk) 00:03, September 3, 2013 (UTC)
Some things, 1). that info came when I imported it from facebook, I haven't figured it out yet :/ 2). You should know accounts being disabled because of COPPA are only made when they are made truly public by the user, this does not apply to logs as the person controlling the bot can fake messages not truly said, so it cannot be direct proof. 3). I've been waiting to return too :D I had a lot of fun experiences while being blocked from CPW on other websites! I'll maybe make a blog about it if I have time since school's just like a week away :( summer's over, BUT my birthday is something to look forward to!
I'm going paintballing! 5). Thanks, hope you didn't miss me too much :P! -Dororo11122 ((my template button is broken, so I can't put my sig >:/))
Subject Here
Message here.
The Robot cp (talk) 00:26, September 9, 2013 (UTC)Happy birthday
Happy Birthday
| | |
| --- | --- |
| | A user has given you a birthday cake! Cakes promote WikiLove, especially on birthdays and hopefully this one has made your day a little better. Spread the WikiLove by giving someone else a cake on their birthday, whether it be someone you have had disagreements with in the past or a good friend. Bon appetit! |

If you try to prove Murphy's Law wrong, you're gonna have a bad time

00:26, September 9, 2013 (UTC)
Happy Birthday
Hey man, happy birthday! I would give you a gift but I am still working on it... so I guess next year maybe...

Phineas99; Happy Birthday to ME! :D

September 8, 2013
OH AM I LATE
HI HAPPY BIRTHDAY HAPPY BIRTHDAY LETS HAVE CAKE OK BYE.
I am Marioracer1, a former stickman, now a potato (talk) 20:18, September 9, 2013 (UTC)
gift
a gift
Lowcatzrock (talk) 02:17, September 16, 2013 (UTC)
A gift on October 24, 2013.

Hello Dororo111122!
On October 24, you will get 3 FREE GIFTS. On that day, you will claim your gift.
Thanks for your attention and enjoy the gift on October 24!

Click
here
to claim your free gift!.
Mariocart25

00:25, October 12, 2013 (UTC)
Penguin-All Stars
Hello, contestant!
You are an official participant in Casablancers Penguin-All star competition! The first challenge starts tomorrow! Read this blog for information on the conpetition: More information here
Your host, 123kitten2 16:03, October 19, 2013 (UTC)
Hey. Hey there >:D
I am coming back to the wiki for a while >:D soo...yeah. Just beware >:P DA AMAZING ALEX
PA
Just a reminder of the challenge tomarrow for more information go here

Oh my god the legendary Golden Puffle is here

02:45, November 11, 2013 (UTC)
Hello Why do you have my username for your chat signature? And why is Tiff or Nick blocked?
TerrariaKing (talk) 15:53, November 18, 2013 (UTC)
Happy Thanksgiving from Phineas99
Hi there! Happy Thanksgiving from me! Phineas99cp! :) Here is a present I made for you! P.S. Don´t get too fat! The turkey is extremely delicious! :P
Agent Phineas99; Reporting for duty

November 30, 2013
Merry Christmas!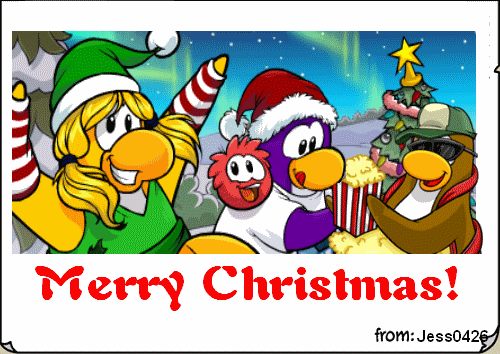 19:04, December 23, 2013 (UTC)
Subject Here
Hi
Lowcatzrock (talk) 21:04, June 17, 2014 (UTC)