Open up your mouth and let the words fall out.
Put messages below this line
You guys Misspelled Club Penguin beta!
Hey you guys misspelled Clank, as C1ank! As you can see from multiple sites, the club penguin beta's name was Clank!
http://thecpguide.com/ultimate-fan/club-penguin-beta-list/ http://astrocppsblog.blogspot.com/p/beta-testers.html https://tebolete.wordpress.com/club-penguin-beta-tester-list/
Thanks!
WookzCP (talk) 22:15, July 29, 2016 (UTC)
I had no participation in the beta test list. The admins are in charge of it most of the time. You have been spooked 14:00, July 30, 2016 (UTC)
Happy Holidays by Dps04!
Dps04 wishes you Happy Holidays! Merry Christmas, and a Happy New Year!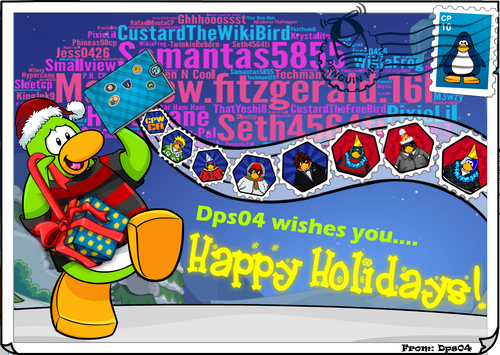 Community content is available under
CC-BY-SA
unless otherwise noted.