Welcome to the Club Penguin Wiki, Grand Moff Birdin!
Hi there! Welcome to the Club Penguin Wiki, the free online encyclopedia all about Club Penguin! We hope you enjoy your stay here.


Here are some things that may help you get started:

User page - All users have their very own user page. Your user page is where you can write about yourself, your penguin, and many other things.
User talk - All users have their own talk page. User talk pages are used to receive messages from others. You can also leave messages on other users' talk pages. You can add your signature by typing 4 tildes (~~~~), or by clicking the button on the edit bar to do the same thing.
The wiki also has a forum and a chat, where you can start discussions about Club Penguin, editing, about the wiki, and other subjects.
Also, make sure all the actions you do- editing, commenting, chatting, etc., are following the wiki's policy.
You can also modify some of your account settings such as your signature at Preferences. If you want to learn how to make a cool signature, click here!
Other help pages may be found here.

If you have any questions, feel free to ask an

administrator

.
We're always happy to help!

-- Mixer2301 (Talk) 03:31, April 6, 2013
Policy
Hello, I would like you to know that what you said on a particular forum is against the Wiki-wide policy. I direct you to the first NO on the list: NO SWEARING. I have removed the reply. Please do not do such a thing again.
---
Rekanochi (talk) 00:30, July 28, 2013 (UTC)
Hello:
As Rekanochi said, swearing is against the policy. You have been blocked for 2 days per according to it.
Have a good day:

--

If you try to prove Murphy's Law wrong, you're gonna have a bad time

00:34, July 28, 2013 (UTC)
Stop...
Please don't make a thread with spam. What if some user has an old computer, and click the thread? Their computer might break.

Sillybudz! Talk 2 meh.. My news :)

Rascism
On your blog,"why i hate membership", you referenced racism. Please do not talk about skin colors or racism. I may not be a admin, but I can notify one to block you if it keeps on. LookatmeIgotaKey (talk) 23:50, September 16, 2013 (UTC)
Subject Here
Message here.
Mozziedoo (talk) 04:11, November 24, 2013 (UTC) Yep. tell me what that word means.
Why duck was blocked from CP Chat filters
Well that makes more sense...also, I forgot to send you a Happy Holidays gift so here you go ;)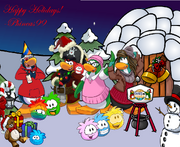 Phineas99; Jingle Bells! Jingle Bells! Jingle all the way!

December 26, 2013
Subject Here
Message here.
Flallaana (talk) 00:42, July 14, 2014 (UTC)
Ironically enough a mod closed that thread. How was it getting "irritating for navigation"? What does that even mean? Anyways... any mod. I dont want a mod banning me or something for using a rather... disrespectful word.
Sonic/Megaman RP
The Sonic/Megaman Rp has started at http://clubpenguin.wikia.com/wiki/Thread:418749. JOIN NOW! User:Kanpo1 13:49, August 7, 2014 (UTC)
Picture
No, it's the guy from "Spongebob Squarepants" Let's do the Time-Warp again!
17:00, August 7, 2014 (UTC)WikiaFrog
Re: Why
"An image must not... Contain any... reference to drugs"
--Hey.youcp

22:45, July 26, 2015 (UTC)
Community content is available under
CC-BY-SA
unless otherwise noted.