Re: Rendering Furniture Sprites
Hello, Hey.youcp,
Thank you for letting me know how to properly render furniture sprites. I was really curious about it!
I wanted to ask you if the Archive template or the ArchiveCPI template are still necessary? After Club Penguin Island's closure and the entire Club Penguin franchise ending, everything on the Club Penguin universe is actually no longer happening in Club Penguin or in Club Penguin Island, making it unnecessary. One thing that is still "active" in the Club Penguin universe is maybe Merchandise or any real life things.
Thank you for your help and happy new year,
Nagi123 (talk) 19:35, January 6, 2019 (UTC)
Good point. I agree with you that those templates are unnecessary. May you please use your bot to remove them from articles?
--

Hey.youcp

07:12, January 7, 2019 (UTC)
Thanks for removing them! However, looks like your bot added blank lines in some edits. This results in noticeable gaps of space on articles. Is it possible to use your bot to fix those? If you search your bot's contributions for "-11" (-11 bytes), you can see all the edits where it added those blank lines.
--

Hey.youcp

06:43, January 8, 2019 (UTC)
Oh, thanks for notifying me this strange problem. I haven't seen an option in AutoWikiBrowser or in PyWikiBot to search for edits by total bytes change, so I went ahead and removed those blank lines manually from all articles. (p.s. I don't actually know where to write this message).
Re: Chat Bot Help Again
I'm working on the bot, brb

Samantas5855 (talk) 10:02, January 9, 2019 (UTC)
Hey, I made to run the bot. I had to do some changes tho. The forker suggests ruby 2.1.3 but with that version there's a conflict between mime-types versions. Ruby wants >3.0 while our script wants <3.0. I also had to install httparty 0.13.7 in order to work with such an old mime-types version. Since wikia migrated to fandom I had to change the two wikia.com on client.rb. It worked but I had a crash yesterday and I'm trying to work it out. I am willing to give you access to the server and some instructions in order to run the bot.
Samantas5855 (talk) 12:33, January 27, 2019 (UTC)
E-Mail or messenger would be fine
Samantas5855 (talk) 10:30, January 28, 2019 (UTC)
Yeah. tell me the blog concerning the vandal warning
I think there's an blog post explaining a unused Vandal Warning but sadly it was deleted because it's not needed, tell me the real reason? 2012 version of Club Penguin wiki... there's used to be a Vandal warning?!
--~ Cirno The Ice Fairy (My talk!) 20:38, January 10, 2019 (UTC)
Re: Test CPI Offline
i downloaded both the ClubPenguinIslandLauncher-2.0.0.dmg you uploaded and the Club Penguin Island.app i uploaded and got ""Club Penguin Island" is damaged and can't be opened. You should move it to the Trash." if i tried to open them directly, and ""Client" is damaged and can't be opened. You should move it to the Trash." if i show package contents and open the client
so idk if its a problem on my end or if it were to be like this on other devices too but it wasnt working either way
–Watatsuki

19:31, January 19, 2019 (UTC)
it works
–Watatsuki 20:55, January 22, 2019 (UTC)
Wiki.png
Hi Hey.you,
I was wondering if you or another administrator could update this image. It hasn't been updated in many years, and serves as the apple touch icon for the wiki.
I would suggest either the same as the favicon, or something similar to the wiki logo. For best compatibility, it should be 155x155.
I would do it myself, but FANDOM automatically fully-protect the file.
Thanks! — Spydar007 (Talk) 18:24, February 18, 2019 (UTC)
Unfortunately Casper the Betta Fish passed away at age 8 many years ago. His memory lives on in all his iridescence. Talk to me on Discord sometime. I'm in the Wikia's server.
The Lord of the Mice (talk) 22:21, March 16, 2019 (UTC)
Old channel
Hey! I was looking at some old party tour vids and I came across your old YT channel! The vid was of the Adventure Party 2009. Nice drawing at the start of that video, by the way!
Azarath, Metrion.. Zinthos! 05:16, May 20, 2019 (UTC)
Wiki Staff Introduction
Wikia Staff
Hi! My name is PsiSeveredHead, and I'm the Fandom Wiki Manager for the Club Penguin Wiki. I am here to help the community and be a liaison to full-time Fandom staff. If you ever have a question or issue relating to the wiki, editing, etc., please contact me on my message wall or talk page.
PSH aka Kimera 757 (talk) contribs 19:22, May 20, 2019 (UTC)
Bot
Hey Kawkeet buddy old pal,
I was wondering if you could get the bot back because it died a few days ago and we've been screwing up a lot trying to log so if you could get bot back online that'd be great thanks appreciate it!!!1111!!
-тωιηкιεяεвσяη- 04:05, June 9, 2019 (UTC)
Dear Kawkeet
where the hecky did you get this from, and are there more like it?
sciencerely, –Watatsuki

21:46, June 28, 2019 (UTC)
* Hey.youcp tries to remember where he found an image that he uploaded almost 7 years ago
Uhhh...
* Hey.youcp proceeds to spend way too much time frantically searching through SWFs
AH YES, it is just as I have remembered all along. Thanks to my exceptional memory, I have been able to locate the SWF in question. Here you go: http://archives.clubpenguinwiki.info/static/images/archives/e/e9/FilesHomepageScene_28.swf
Apparently, there was a fruit item unlock message on the Adventure Party: Temple of Fruit homepage that only displayed for players in the UK, and the penguin wearing the Orange Citrus Hoodie was included in that unlock message. Unfortunately, the other penguins in this image weren't included. Anyway, thanks for reminding me to add a source. ( ͡• ͜ ʖ ͡• )
--

Hey.youcp

06:21, June 30, 2019 (UTC)
Alien Puffles
Hey, how do the Alien Puffles look like in the CP app? Gimme pics taken from the game files if you can. I need them for the wiki
Chennaouiimrane (talk) 00:37, August 3, 2019 (UTC)
Sure, here you go:
Have fun rendering that 3D model! And if you get stuck and need some motivation, then look no further:
[2015-06-30 19:28:03] <SandorL> The 3D models are in an encrypted, unrenderable .mmf format

Anyway, this YouTube video shows how the alien puffles looked on the Club Penguin app. However, the quality probably wouldn't be good enough for uploading an image and adding it to the Alien Puffle page, if that's what you intended. I appreciate your interest, though.
--

Hey.youcp

04:43, August 6, 2019 (UTC)
(✆■_■¬)
Attention agent Chevrolet Malibu:
Mission complete. However, during the mission, I received intel that there is reported to have been another downloadable mission in Club Penguin: Elite Penguin Force, known as "A Special Message From Aunt Artic". Upon requesting a record of information, I received a report this information was first and solely documented in late January of 2009. However, as I could not find any other record of this in my own searches of other archives, I am doubtful it was truly a mission. Additionally, The Puffle Pranksters was advertised to the public as "the first Wifi downloadable mission".
I have on record that you, fellow agent, have previously extracted some data from this Club Penguin: Elite Penguin Force. Do you know of any possible hint as to what this so-called "mission" could have been, such as text files? My current belief is this "mission", should it even have existed at all, may have just been an in-game cutscene sequence, with Aunt Artic "talking" to the player while within the Town, or perhaps another location, but as I can find no footage of whatever this reported "mission" is, I remain uncertain.
Remember agent: be resourceful, be remarkable, be ready.
–Watatsuki

17:58, August 18, 2019 (UTC)
As an addendum, agent, I was contemplating upgrading the database for clothing within Club Penguin: Elite Penguin Force at some point. One possible upgrade is the addition of what sources tell me are named "icon" and "paper" images. Following up on my prior question regarding you possessing data in this field, I must pose the theory: are these able to be extracted from this archive? I await your report, agent. –Watatsuki 02:40, August 19, 2019 (UTC)
Rookie voice only
Hey, is there a way you can send me all the rookie lines with no background audio? Thanks
Jess0426 (talk) 01:08, August 24, 2019 (UTC)
New Wiki Manager introduction
Hi there, I'm Bluerock, and I'm the new Wiki Manager, taking over from PsiSeveredHead. Feel free to drop me a message if you have any questions or need any help editing the Wiki! --Bluerock (talk) 16:41, September 17, 2019 (UTC)
ImageShack SWF
Hey,
Can you please provide more information about your recently found SWF on ImageShack? like which website it was posted on. I believe there could be more SWFs out there (given that there are about 600 ImageShack hosts).
By the way, there seems to be one more SWF from that uploader: the Ski Lodge during the Christmas Party 2008, however, it is already archived.
Thank you!
Nagi123 (talk) 19:37, November 19, 2019 (UTC)
Re: Re: ImageShack SWF
Well done, Hey.youcp. Thank you for the detailed explanation, much appreciated!
This year seems to cover the most unarchived files (1, 2, 3), hope next year would bring more :)
I know swfcabin.com was also commonly used for hosting Club Penguin files. Maybe we can also find a lost file there.
Nagi123 (talk) 18:22, November 26, 2019 (UTC)
Stuff
Hey! Been messing with CPI stuff using these, uh.... "Unity Assets Bundle Extractors" stuff. Pretty nice, pretty good, does the job well. But Furniture and Item icons and stuff. Man, these seems to be, uh....... missing. Along with their meshes. A-any idea where they might be? *thumbs up emoji*
P.H. CP (talk) 01:34, December 19, 2019 (UTC)
Season's Greetings from Dps04
Dps04 wishes you Happy Holidays!


--

Dps04talk 17:52, December 21, 2019 (UTC)
Re:Re: Hallo
Unfortunately, Casper the Friendly Fish passed away after quite a few years of life. I believe maybe 5 or 6 years old? His fins glimmered into the great beyond!
I've just been going thru all my old past social medias and remembered my credentials to Wikia, seeing as the Discord is strangely less active than the Chat on here usually.
Funnily enough, seeing our past conversations about Kyurem, that obsession still does hold up today. The Unova region will always be my favorite :P
If you ever need to contact me for ease of access, or quick chatting for some games or something sometime, my Discord is Israphel#0800.
Yours truly, King of Late replies, Lord of Rings.
It was Boddypen (talk) 16:16, February 14, 2020 (UTC)
Dear Kawkeet user
every time someone uses an emoji the bot explodes and blows up and dies, whether it be pixielil, or its included in a copy/paste, or pixielil, or someone just not knowing this happens, or pixielil
why does it do this?? can this be fixed??? is there something missing from the bots code??? do you have the answers or is this a samantas (if hes even still around) issue???? manually logging hurts my soul
ps thoughts on zarude

–Watatsuki

01:31, March 21, 2020 (UTC)
yeah i was using that one because i lost the old one because chrome history only goes so far back 04:13, March 22, 2020 (UTC)04:13, March 22, 2020 (UTC)

ps i will get back to the epf pages soon i swear –Watatsuki 04:14, March 22, 2020 (UTC)
RE:CPPerapin Unblock Request
Hi I have no objections to him being unblocked since it has been a long time. I asked Wata what he thought and he said "ill consider it" so I guess we'll wait for him...

You know it's Apj

03:39, March 22, 2020 (UTC)
This
guess i'll start searching "potato" 50 times a day to improve analytics accuracy



Penguin-Pal (talk) 07:50, March 22, 2020 (UTC)
CPChatBot 2.0
Hi, Hey.youcp. As you already know, I have started to code a new chat bot in Python. I already added to it most of the current chat bot's main commands, including seen, tell, and updatelogs. If you want to try it on your own, you are welcome to clone the GitHub repository, edit config.json and run it. Make sure you are using Python 3.6 or above, and have installed python-socketio and requests.
You (or anyone in charge of it) should consider replacing the current chat bot with mine for more stability, readable Pythonic code (I don't like Ruby :D), easy plugin management, and emoji support for both updatelogs and tell commands.
Thanks, Nagi123 (talk) 19:10, April 13, 2020 (UTC)
Card-Waifu
Hi Hey.you,
I wanted to upload it to FastSWF but my browser has no flash enabled and it's required for uploading ¯\_(ツ)_/¯
Have a dipper card for now:

Penguin-Pal (talk) 16:21, April 28, 2020 (UTC)
--

Hey.youcp

08:55, April 29, 2020 (UTC)
¯\_(ツ)_/¯

Penguin-Pal

(talk)

13:50, April 29, 2020 (UTC)
--

Hey.youcp

06:42, April 30, 2020 (UTC)
Well, I cannot argue with that. ¯\_(ツ)_/¯ I think you've won this match.

Penguin-Pal

(talk)

07:48, April 30, 2020 (UTC)
--

Hey.youcp

08:07, May 4, 2020 (UTC)
bot update may 2020
hey buddy idk if you're the one that was behind this but the new bot update really sucks. like, big time. can we get it reversed please thanks
-тωιηкιεяεвσяη- 02:26, May 3, 2020 (UTC)
If you read the "CPChatBot 2.0" message above, then you'll find your answer. Nagi rewrote the entire chat bot source code in Python to make it easier to maintain and to fix issues in the previous Ruby source code (like the YouTube plugin not working and the bot crashing when delivering !tell messages that contain emojis). He rewrote it recently, so of course there are going to be some bugs for now.
Anyway, he volunteered his own time to help, so you should be more grateful for his sake. 👀 If you have a specific issue to report, then report it.
--

Hey.youcp

08:07, May 4, 2020 (UTC)
Club Penguin Request
Club Penguin Request
Dear Hey.youcp! This year, on the 24th of october, Club Penguin will turn 15 years old. This is a huge number, and we do not want to slip over it, without anything remarkable. That is why, we decided to make a documentary, that unites the story of Club Penguin, to turn it into a memorial, that the game deserves to have. We are writing to ask you, to help us in it. We already contacted couple of the original creators of Club Penguin, but we always wanted to have someone in the documentary, who was just an usual player of the game, who can talk about it from the players' angle. We thought about you, because as one of the moderators of the wiki, you are probably one of those, who knows the most about the game. It would help us a lot, if you would agree to share more with us, from your club penguin memories through, for example a video call. We appreciate every support a lot. Looking forward to your answer: With Regards, Andrew Mark Nick, Ben Schermann, Two fellow fans of CP AndrewMarkNick (talk) 11:57, May 12, 2020 (UTC)
hey
Top of the morning to you, Heyyou.cpx.
I want to interest in your admining utillities to figure out how I too may becoming a good admin in a future day of sometime, pleas advice.
благодарю вас
Felix Steiner (talk) 04:31, May 16, 2020 (UTC)
CP Docu Update
Dear Hey.youcp! After months of work, we are able to tell you some news. We aren't ready yet, so we can't start the "test screenings" now, but pretty surely we'll be ready in 1 or 2 weeks time. The good news is, until that we can already show you a trailer from the documentary, which I'm gonna link below.
With Regards
Andrew Mark Nick
AndrewMarkNick (talk) 09:37, August 10, 2020 (UTC)
CP Documentary Update 2.0
Dear Hey.youcp!

Well, it took way less time than what I thought on Monday, we are able to say, that the documentary is ready to watch, so here is the link:

Though, it's pretty sure that it's not the final version, it still could have some minor mistakes. (Even now, when I'm writing these lines, youtube hasn't finished the processing of the video, so currently it's avalaible only in 360p, sometimes soon it has to be avalaible in at least 1080p.) Once these "beta testing" is done, the final version will be uploaded to youtube and will set to premier on the 24th of October. If you've got any idea and/or comment, let us know.

With Regards:
AndrewMarkNick (talk) 14:13, August 13, 2020 (UTC)
Regarding bot
Hi heyyou, didn't notice your message, sorry. I'll email you a new password.

Samantas5855 (talk) 20:38, October 5, 2020 (UTC)
Season's Greetings from Dps04
Dps04 wishes you Happy Holidays! Wherever you are, stay safe and healthy, and have a merry Christmas!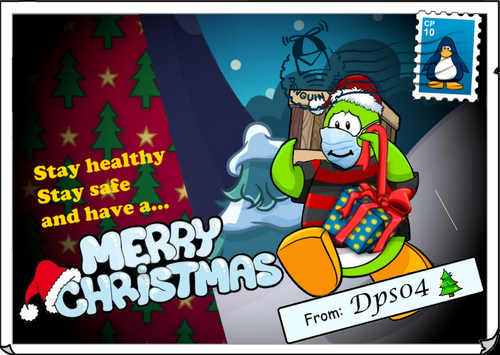 --

Dps04talk 14:15, 21 December 2020 (UTC)
Category reorganization
Happy New Year to you, Hey.youcp!
I just wanted to ask; would it be ok for me to utilize the site name "Club Penguin Wiki" for the top-level (root) category of the wiki?
It would also be a good idea to have a "Club Penguin franchise" category (after the wiki's subject) to house all content categories on the wiki (such as Characters, Games and Features).
These changes would make best use of the wiki's infrastructure, help users find content via search engines, and also improve navigation on the mobile version of the wiki.
Anyway, let me know what you think, and keep up the good work!
--Bluerock (talk) 19:07, 9 January 2021 (UTC)
No problem, happy to explain in more detail:
Regarding categorization in general, this provides an underlying framework that establishes how all content on the wiki relates to each other. Ideally, every category should be a subcategory of at least one other, and every article should be in at least one category. Clustering similar areas of content together in this way is a far more effective way of communicating where best to find info for search engines, rather than just relying on key words alone.
Essentially, the proposal is to have a root category at the top (representing the wiki as a whole), which should ideally use the site name "Club Penguin Wiki". At present, Category:Club Penguin Wiki is only being used to categorize wiki-related special pages, but it can be expanded to serve as the root category, under which a parent category for the actual content about Club Penguin can be placed. Other categories for wiki maintenance are placed in the root category too, keeeping them separate from the content. I'm happy to carry this out myself, as this is relatively easy to perform.
The content category should be named for the subject "Club Penguin franchise", which would then contain all categories/pages on the wiki regarding Club Penguin itself. There is a list of all the uncategorized categories

here

, which may seem a little daunting, but I can easily automate this task using a bot. I intend to categorize those large categories that form the main types of content first (the examples that I mentioned above, such as Characters and Games). I can then move on to the minor ones, most of which can easily placed in others (e.g. year numbers in "Years", Halloween Party categories in "Halloween Parties", etc.).
Simply put, the category structure allows readers a method to "drill down" to the content they're looking for, while also being able to explore related content. It is this structure that the mobile main page is based on, and so improving the organization of the categories will improve navigation from that landing page also.
As mentioned earlier, I'm happy to carry all this out, without causing any disruption at all to the articles. The priority is just getting a root and subject category established, with the latter containing the most important areas of content. I can leave the minor stuff for now, if you'd prefer to do that yourself at some point in the future.
Anyway, sorry to be a bit long-winded, but I hope it explains it a bit more. If you're interested, you can read more on wiki categorization and organization on these "best practices" guides:
Hi there, did you have any further thoughts on this? Can I proceed with the above category proposal?
Sorry if I went into too much detail in my previous message, just wanted to be sure I'd fully answered your earlier questions.
Hi there, just to let you know, I've now set up the top-level (root) and main content categories, at Category:Club Penguin Wiki and Category:Club Penguin franchise, respectively; I've also placed several subcategories in the latter, which cover the different areas of content on the wiki. I believe most other categories/articles would fall within those, but if you think of anymore, feel free to add them. --Bluerock (talk) 20:54, 8 February 2021 (UTC)
Wiki Representative
Hi, I'm the new Wiki Representative for the Club Penguin Wiki and wanted to introduce myself. My home wiki is Elder Scrolls, where I've been a staff member since 2015. I've been working as a Wiki Rep since the program was created in 2019. Please let me know if you ever need me to serve as a liaison to Fandom or to help you with a technical problem on your wiki. Thanks! :) —Atvelonis (talk) 22:27, 18 February 2021 (UTC)
Teal Dance GIF Request
Hi! Thanks for all you do for this wiki. I wanted to ask if you had a transparent GIF of a teal penguin dancing, literally just the same one as on the wiki but teal. No worries if you do not, thanks so much!
Club Penguin Island Documentary
Dear Hey.youcp,
After last year's CP documentary, we felt like the story is not entirely over with CP's closure, because CPI in some terms kept alive the franchise for another 1,5 year. So, it might would be appropriate to complete the story with a similar documentary, this time about CPI.
Out of the blue, we made that documentary in the past few months, and now that we're getting close to finish it, we're making that "beta period", just as we did it last year.
Still, there are some differences compared to last year's project: this time we didn't use any interviews (simply because it is almost impossible to contact anyone, who was really into the game), and it is now just a short-length docu (because it just didn't have as much story to tell as CP had).
Anyway, if you would be interested, we would be happy if you take a look at it, and you would share your feelings about it. We've got plenty of time, we only plan to release it on the 20th of December.
With Regards:
AndrewMarkNick (talk) 17:52, 25 August 2021 (UTC)
Template issues
Hello! I'm Will130, and I represent Fandom's Vanguard volunteer team. We help communities adopt to new technologies and features and to improve their technical performance. We have spotted some code issues on this wiki that I'd like to make fixes to, which should not break anything further nor affect the wiki content.
If you have any questions, or this is the wrong venue for this kind of a discussion, please let me know. Thanks!
Will130

(Talk) 23:59, 15 September 2021 (UTC)