Welcome to the Club Penguin Wiki, Homsar Runner!
Hi there! Welcome to the Club Penguin Wiki, the free online encyclopedia all about Club Penguin! We hope you enjoy your stay here.


Here are some things that may help you get started:

User page - All users have their very own user page. Your user page is where you can write about yourself, your penguin, and many other things.
User talk - All users have their own talk page. User talk pages are used to receive messages from others. You can also leave messages on other users' talk pages. You can add your signature by typing 4 tildes (~~~~), or by clicking the button on the edit bar to do the same thing.
The wiki also has a forum and a chat, where you can start discussions about Club Penguin, editing, about the wiki, and other subjects.
Also, make sure all the actions you do- editing, commenting, chatting, etc., are following the wiki's policy.
You can also modify some of your account settings such as your signature at Preferences. If you want to learn how to make a cool signature, click here!
Other help pages may be found here.

If you have any questions, feel free to ask an

administrator

.
We're always happy to help!

Kallie Jo (talk) 18:17, July 21, 2014 (UTC)
Policy reminder
Hi Thesuperminecraftfan,
Please note that you got banned for bullying people in chat multiple times. Calling people noobs or insalting them in any other way are not acceptable, and violations of the policy result a punishment. Please review the wiki's policy and the chat policy in particular.
Penguin-Pal (talk) 16:35, July 29, 2014 (UTC)
RE:Can You?
Hi supermc,
I'm sorry, but whenever joining chat you agree to follow the wiki's policy and its chat policy, and these are the consequences for violating these rues. There are almost only 2 days left for your ban, though.
Penguin-Pal (talk) 04:12, July 30, 2014 (UTC)
RE:Chat Ban
Hi Homsar,
You are no longer banned.
Penguin-Pal (talk) 20:10, August 1, 2014 (UTC)
Sonic/Megaman RP
The Sonic/Megaman Rp has started at http://clubpenguin.wikia.com/wiki/Thread:418749. JOIN NOW! User:Kanpo1 13:36, August 7, 2014 (UTC)
Your Pic
You requested a pic of a fat penguin with a Passion Patty.
---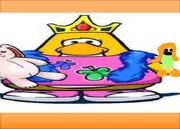 I love CP and FreePenguin! 23:07, August 7, 2014 (UTC)Lcurley0719cp has Left Wikia FOREVER :P
RE:Chat Ban
Hi Homstart,
You caht ban ends in about an hour, so there is no really point in requesting an unban. You can join again when its over :)
Make sure that you are familiar with the wiki's policy before joining again.
Penguin-Pal (talk) 13:30, August 17, 2014 (UTC)
RE:Swar
Hi Homsar,
I'm sorry, but as you know, we have rules here, and i fyou don't follow them, there are consequences for that. As a result, it would be irresponsible to unban you.
Remember to follow the wiki's policy next time or you could be blocked in addition to that next time!
Penguin-Pal (talk) 22:39, August 18, 2014 (UTC)
But he asked you to ban him and not unban him...
Community content is available under
CC-BY-SA
unless otherwise noted.