Welcome to the Club Penguin Wiki, Icecream0v0!
Hi there! Welcome to the Club Penguin Wiki, the free online encyclopedia all about Club Penguin! We hope you enjoy your stay here.


Here are some things that may help you get started:

User page - All users have their very own user page. Your user page is where you can write about yourself, your penguin, and many other things.
User talk - All users have their own talk page. User talk pages are used to receive messages from others. You can also leave messages on other users' talk pages. You can add your signature by typing 4 tildes (~~~~), or by clicking the button on the edit bar to do the same thing.
The wiki also has a forum and a chat, where you can start discussions about Club Penguin, editing, about the wiki, and other subjects.
Also, make sure all the actions you do- editing, commenting, chatting, etc., are following the wiki's policy.
You can also modify some of your account settings such as your signature at Preferences. If you want to learn how to make a cool signature, click here!
Other help pages may be found here.

If you have any questions, feel free to ask an

administrator

.
We're always happy to help!

-- Shurow (Talk) 09:00, December 7, 2012
Nice work
Hi Icecream,
I just wanted to thank you for the animations you uploaded for the Puffle Tricks page! They really make the page more interesting. :)
Kallie Jo (talk) 14:32, April 18, 2014 (UTC)
RE:
Only admins or patrollers can delete pages/images. What would you like to be deleted?
Kallie Jo (talk) 15:09, April 18, 2014 (UTC)
Hi! I got you a present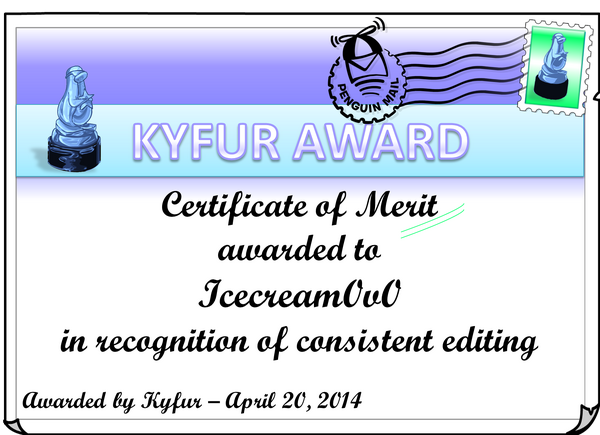 --Kyfur

(talk) 08:34, April 20, 2014 (UTC)
RE:Free Party Items Page
Hi Icecream0v0!! Thanks so much!
And to answer your question - I got the images by taking a screenshot (with the browser zoomed in) of the icon in the inventory (after collecting the items) and then cropping the image. I did the same process with the in-game picture. :)
Happy editing!!
✓ Kyfur

(talk) 04:51, May 1, 2014 (UTC)
Licensing Reminder
Hello Icecream0v0,
I've noticed that you have been uploading images that are not properly licensed. Please remember to use the proper licensing when uploading an image. If you are unsure of what licensing is or the proper one to use, this blog may help. It is very important to add this, so please keep it in mind next time you upload an image. If you have any further questions, feel free to contact me for assistance. Thank you for your attention.


Kallie Jo (talk) 13:31, May 10, 2014 (UTC)
Images
When uploading static images, could you please upload them in a .PNG format, instead of a .JPG format, because .PNG images have better quality. :)
~ Perapin
(Contact) 09:25, May 24, 2014 (UTC)
RE:Images
Hi Icecream,
Do you talk about downloading a SWF file of Club Penguin? If that's the case, there are three main ways:
If a link to the particular file exists in the wiki, you can use it.
View the thing that you'd like to find the SWF file of (e.g. open a catalog in cp if you want to get a SWF of it). Then open a new tab and insert to the URL bar about:cache and hit enter. Then the recent list of files that were viewed in your browser will be displayed, including the catalog's (or whatever file you were viewing).
If it's an item SWF (e.g. clothing/furniture), you can go to the JSON list, find the link to the JSON document of the sort of items (e.g. the link next to "Clothing" if it's a clothing item). Open the link and use Ctrl+F to search for the item's name. Then search for the ID that is located next to the name (e.g. 413 next to "Party Hat"). Replace the ID from another clothing SWF link with the ID that you've found.
If this is not what you were looking for, please let me know.
Penguin-Pal (talk) 11:58, May 26, 2014 (UTC)