Hello, please post John messages here!
Messages
Huh
You must be new to Club Penguin or never saw Cadence during the Puffle Party 2011
Japanese Ruler
Post this to Japanese Ruler or change the level. Terler
Templates
This user wants to get paid for being a Ninja!
Levels
(0) Blue (Extremely Below average level of problems, wiki is in excellent shape)
(1) Purple (Below average level of problems)
(2) Green (Average level of problems, most common)
(3) Yellow (Above average level of problems)
(4) Orange (Very high above Average level of problems, in alert mode!)
(5) Red (Extremely high level of problems, high alert mode, everyone should take caution!)
| | |
| --- | --- |
| +5½ (IST) | This user is 5 1/2 hours after UTC and goes by Indian time. |
| | |
| --- | --- |
| | John Fitzgerald Kennedy Has The Flame Sandals |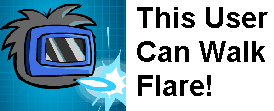 Polls
Administration
Sorry, I can't just give you the title of Administration. Follow the directions on this page: User:ShrimpPin/3 or follow these instructions:
Q: Can you make me an Administrator?
A: First you must prove yourself worthy, o seeking one :P. Well, you must do these things:
1. Prove that you know how to make an AWESOME user page!
2. Prove that you know how to make a super-cool signature! It must include at least of of each: colored text, a link to your page on this Wiki, and a picture.
3. Prove that you know how to use Wiki tools. Make a page: Ex. User:(your username)/1 . Then, make one sentence with bold text with a reason why you want to be an Administrator. Then type an italicized word and then a highlighted word. Finally, put your signature. All of this must be correct grammar and spelling.
Once you have done these things, I may consider you for a candidate. Make sure your pages aren't too cluttered and show me that you are a leader.
Thanks!-- ShrimpPin ( Talk ) Go Purple Pups!

13:15, June 4, 2011 (UTC)
You're Invited!

Spread the word! Post this template on all of your friends' pages! Hello!It's Terler!ShrimpPin said to me "Spread the word!Post this template on all of your friends' pages!"
Adminship
Our positions are full, sorry.
~Bman2007Jazz (Talk Page) 20:06, June 14, 2011 (UTC)
No.
DO NOT BLOCK ME FOR BEING AMERICAN LIKE AT THE FANON! IF A BUREAUCRAT TELLS ME THAT PRIOR TO BLOCKING I WILL EXPLAIN THIS AND BLOCK YOU BACK!!! --Puggie4276 the epic 23:22, August 15, 2011 (UTC)The fedora PWNs you!
Come on, come!
Hope you're exited
for...
Shay Dow's Rollback Promotion Party!
The Part-ay will be taking place on
February 25th, 2012!
Party Info
Date: February 25th , 2012
Time: 09:00 AM (PST) (can be changed)
Room: Beach (we will start the party there)
Server: Sleet
Backup Server: Icicle
Special Guests
please leave a message in my Talk Page for adding you to the list
Plans for the Party
First of all, be sure to be there!
Playing multiplayer games!
Waddling around the island!
Enjoying Rockhopper's Quest!
LOLing!
Playing Games like hide and seek or robbers.
And much, much more!
Publish Button issue
Hello John Fitzgerald Kennedy,
I checked my question in the community central about your problem, but no one replied.
If you are still having problems with the publiush button, you should E-mail wikia.
If you will, they will probably reply you soon.
Penguin-Pal (talk) (quiz) 12:56, March 20, 2012 (UTC)