Old WIki.
The thing is. I am not an admin. Only they can delete it. However this is the old wiki since we hate this new wikia skin. You can find the new wiki below this on on Google. I am just here to import some old images and recruit people who didn't get the memo. P.S. You also create subpages. You can create on by typing (NAME OF SUBPAGE Ignore the space I made. If you need any more info I will check my page every few days. Nice to meet you Kendzo. --Fury is Still Alive
srly?
We became independant. We have our OWN wiki. No one uses this one.
Admin
Hi, Kendzo! I see that you've taken an interest in becoming an Administrator. First, look here. Make sure to use correct grammar, capitalization, and spelling, among other things listed on the link provided. The old way to become an Admin was to hold a community vote, but the voting is closed due to the new wiki in power. If you can prove that you are a great user, then you can become an Admin after the Administration Team's approval. Thanks, and have a nice day.
-- ShrimpPin ( Talk ) Go Purple Pups!

15:16, June 6, 2011 (UTC)
RE: Help
Hi, Kendzo! You would like to change the EPF Rooftop picture? I will change it for you. All you have to do is edit the page, go to the Infobox text, find the Image, and change it to your photo. I will change it now, you just tell me if that's how you wanted it.
~Bman2007Jazz (Talk Page) 20:58, June 7, 2011 (UTC)
Featured Image!!!
Congratulations, Kendzo, a recent image you uploaded is the Featured Image of the week, June 27th, 2011! Here's the image: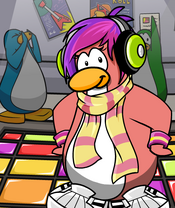 Good job!!!!
~Bman2007Jazz (Talk) 02:39, June 27, 2011 (UTC)
Fun things!
Hey Kendzo! I see you've been very busy editing recently... So... Here are some fun things to do on the site!
Vote for the Wall of Fame here!
Check out the Community Corner!
Look at the Main Page!
Have fun editing!
ShrimpPin Talk to the Shrimp...

20:00, June 30, 2011 (UTC)
Wall of Fame
Please vote for the Wall of Fame here!
ShrimpPin Talk to the Shrimp...

19:04, July 2, 2011 (UTC)
Thank you!
Thank you for voting on the Wall of Fame for Bman2007Jazz! Would you like to vote for ShrimpPin?
Club Penguin Wiki Administration
That golden armour you uploaded a pic of is that new and do you have the ids of them? The shield has wings :D!
Community content is available under
CC-BY-SA
unless otherwise noted.