249
Welcome to the Club Penguin Wiki, Kevin81levin!
Hi there! Welcome to the Club Penguin Wiki, the free online encyclopedia all about Club Penguin! We hope you enjoy your stay here.


Here are some things that may help you get started:

User page - All users have their very own user page. Your user page is where you can write about yourself, your penguin, and many other things.
User talk - All users have their own talk page. User talk pages are used to receive messages from others. You can also leave messages on other users' talk pages. You can add your signature by typing 4 tildes (~~~~), or by clicking the button on the edit bar to do the same thing.
The wiki also has a forum and a chat, where you can start discussions about Club Penguin, editing, about the wiki, and other subjects.
Also, make sure all the actions you do- editing, commenting, chatting, etc., are following the wiki's policy.
You can also modify some of your account settings such as your signature at Preferences. If you want to learn how to make a cool signature, click here!
Other help pages may be found here.

If you have any questions, feel free to ask an

administrator

.
We're always happy to help!
Hi Sockpuppet
Hi, Nice Icon, Joseph --

CHOWDER2000Electric Guitars Rocks 16:03, December 28, 2011 (UTC)
...
.......................................................................................That's just WEIRD -SulthanA (Talk)
Hi
Hi, Long time no see :P --

CHOWDER2000King of the Puffles! 19:11, January 21, 2012 (UTC)
Gary Pic
Hi Joseph,
Thanks for the comment. You are truely right- these are Aunt Arctic's glasses. Thank you very much for sending your message- i will replace the pic as soon as possible.
Penguin-Pal (talk) (quiz) 13:48, January 22, 2012 (UTC)
Comment
Please don't curse. This is a warning- the next time will result in a block. Cursing officially does not make you cool. It's a bad thing.
Hi
I am here to say that March is a little bit closer and you have to have an edit race with me...
-- Idea Mixer2301 Rollback and Chat Moderator 13:12, February 13, 2012 (UTC)
I did it.
I UN-KICKED YOU. BUT DO NOT THREAT ME AGAIN

Shay Dow! The Dark Lord

10:04, February 16, 2012 (UTC)
Finally, you're back!
Hi Kevin,
Long time no see!
I see that you came to chat today, but I did not chat with you, but I saw u on chat because I just came after you left :D.
But welcome back!
Btw, what about the edit race you should have with me? March is over and you should have one!
Thanks- Mixer2301
Hello
Hello,
Please do sign here, if you are my buddy in this wiki or any other wiki.
Thank you, Sdgsgfs
Re:Custom
I LOVE IT! THANK YOU! Mordecai and Rigby Rocks
Snow Showdown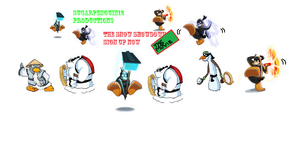 --SugarPenguin12 (talk) 07:58, May 20, 2013 (UTC)
Community content is available under
CC-BY-SA
unless otherwise noted.