Welcome to the Club Penguin Wiki, Klump Strangeglove!
Hi there! Welcome to the Club Penguin Wiki, the free online encyclopedia all about Club Penguin! We hope you enjoy your stay here.


Here are some things that may help you get started:

User page - All users have their very own user page. Your user page is where you can write about yourself, your penguin, and many other things.
User talk - All users have their own talk page. User talk pages are used to receive messages from others. You can also leave messages on other users' talk pages. You can add your signature by typing 4 tildes (~~~~), or by clicking the button on the edit bar to do the same thing.
The wiki also has a forum and a chat, where you can start discussions about Club Penguin, editing, about the wiki, and other subjects.
Also, make sure all the actions you do- editing, commenting, chatting, etc., are following the wiki's policy.
You can also modify some of your account settings such as your signature at Preferences. If you want to learn how to make a cool signature, click here!
Other help pages may be found here.

If you have any questions, feel free to ask an

administrator

.
We're always happy to help!

-- Dps04 (Talk) 19:20, December 8, 2012
Hello
Hello Klumpsvideos6man,
Please note that some of your blog comments have been removed due to their content. Please review the wiki policy before editing or commenting again.
Thank you for your attention,
Penguin-Pal (talk) 10:36, January 1, 2013 (UTC)
Blog Comment
Hey, Klumpsvideos6man.
I see that you have been banned from chat for swearing. However, venting your anger on a random blog post could get you blocked instead of just banned from chat. I have removed your blog comment due to swearing. This is your warning. Please be careful of what you say in blog comments and in chat. Like Penguin-Pal recommended, you should take a look at our wiki policy.
Have a nice day.
--Hey.youcp

01:34, February 7, 2013 (UTC)
Excuse Me
Please don't edit my userpage. --

Jjoeyxx, VIP Superstar Actor/Director And Owner Of KFP!

19:28, February 13, 2013 (UTC)
Hm
What were you trying to tell me on my Fanon talk page? I'd like to know, please. --$harkbate Talk2Meh 20:39, February 20, 2013 (UTC)
K
Please leave me alone. Stop leaving random messages on other wikis, editing my userpage, and purposely bothering me. 847
St. Patrick's Day Gift
Happy St. Patrick's Day Klump Strangeglove! Enjoy your Gift! --
Mariocart25
(
talk
) 23:21, March 17, 2013 (UTC)
Happy Easter :D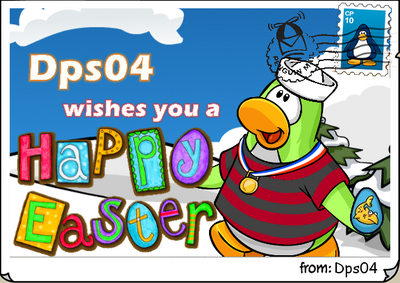 --

Dps04talk 16:48, March 30, 2013 (UTC)
Happy Easter from Twinkie102!
Happy Easter, Klump Strangeglove!! :D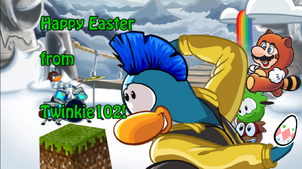 Hey you, yes you!
you are very cool, but, the image of Klutzy is wrong. You can put fan images, but no post in really pages of the Wiki.
Detodounpoco (talk) 18:14, March 30, 2013 (UTC) Thanks, Detodounpoco 32
The Chat Moderator You
Here Is The Chat Moderator Of You,You Wanted Here It Is http://prntscr.com/10lcnk -PlayerPenguin
User page protected
Hello Klump Strangeglove,
Please note that your user page has been protected as your user namespace edits are more than 40% of your total edits (Currently 136 userpage edits out of 282 a total). Your userpage will be unlocked when it's less than 40%. You can see the ratio of your user pages edits here. This policy is to prevent too many edits in user pages.
How to decrease my user page edits?
You can decrease your user page edits ratio by editing more other namespaces, like Mainspace (ordinary articles), File (by uploading files) or Template.
Thank you for your attention,
Penguin-Pal (talk) 17:39, April 15, 2013 (UTC)
Hey Klump
Marcus tells me you recorded him swearing on that join.me page. Any chance you know where the video is? Thanks a ton,
Blitzzy (talk) 22:13, April 21, 2013 (UTC)
Happy Easter and Earth Day 2013 from Phineas99!


Captain Mordecai; The Regular Avenger!



April 22, 2013
Hey there! I know Easter is late of not but anyways...here is the Easter gift along with the Earth Day gift! Hope you like it! Oh and remember to turn green, and help protect the Earth and then eat some eggs! :D :P
Community content is available under
CC-BY-SA
unless otherwise noted.