29,156 bytes

Dump
Penguin-Pal's Talk Page Archives
[01] (December 5, 2011)
[02] (January 2, 2012)
[03] (February 10, 2012‎)
[04] (April 21, 2012)
[05] (June 12, 2012)
[06] (July 10, 2012‎)
[07] (July 28, 2012)
[08] (August 25, 2012)
[09] (September 21, 2012‎)
[10] (October 22, 2012)
[11] (December 8, 2012‎)
[12] (December 26, 2012‎)
[13] (January 16, 2013)
[14] (February 2, 2013)
[15] (February 20, 2013‎)
[16] (March 6, 2013‎)
[17] (March 20, 2013)
[18] (March 31, 2013)
[19] (April 7, 2013‎)
[20] (April 17, 2013‎)
[21] (April 27, 2013‎)
[22] (May 13, 2013‎)
[23] (May 25, 2013‎)
[24] (June 3, 2013‎)
[25] (June 16, 2013)
[26] (July 1, 2013‎)
[27] (July 12, 2013)
[28] (July 22, 2013‎)
[29] (July 27, 2013‎)
[30] (August 3, 2013)
[31] (August 7, 2013‎)
[32] (August 20, 2013‎)
[33] (August 27, 2013)
[34] (September 2, 2013‎)
[35] (September 13, 2013‎)
[36] (September 28, 2013)
[37] (October 12, 2013‎)
[38] (October 24, 2013‎)
[39] (November 12, 2013‎)
[40] (December 1, 2013‎)
[41] (December 22, 2013‎)
[42] (January 13, 2014)
[43] (February 3, 2014)
[44] (February 21, 2014)
[45] (March 13, 2014)
[46] (March 29, 2014)
[47] (April 10, 2014)
[48] (April 27, 2014)
[49] (May 8, 2014)
[50] (May 18, 2014)
[51] (May 29, 2014)
[52] (June 10, 2014)
[53] (June 22, 2014)
[54] (July 10, 2014)
[55] (July 22, 2014)
[56] (August 14, 2014)
[57] (September 19, 2014)
[58] (October 24, 2014)
[59] (November 29, 2014)
[60] (February 10, 2015)
[61] (April 1, 2015)
[62] (January 1, 2016)
[63] (n/a)
Protect my page
My brother was being a jerk and stole Ecpg's custom and added it on my userpage.Can you remove the custom? http://clubpenguin.wikia.com/wiki/User:The_Jonie Thanks! ~Jonie Christmasfuntime!
Emote
Can You make this an emote
Jess0426 (talk) 01:15, December 3, 2014 (UTC)
Vic's Promotion
Hi P-P,
Vic has told me that you have given approval towards his chat moderator promotion. He said that you wanted another admin's approval, and well, I guess I would be that other :P. If you wish to discuss it with other admins first, of course you may, but I have already promoted him for now.
Thanks,
Jeserator HTTR!
23:33, December 4, 2014 (UTC)
Oh dear P-Pal, HELP US!
Help us! Refer to this link - http://prntscr.com/5deu2a

*throws snowball at ThatYoshi8* Wait, I'm ThatYoshi8. Tee hee. 10:05, December 5, 2014 (UTC)
Grats!
Hi Sir! :)
Thanks! And certainly, I'll keep on being such a great walrus (or maybe I'll try and become ever better). Keep on being a good pal ;)
See ya in an hour, Callum! :)
Callum Fawsitt (talk) 14:21, December 5, 2014 (UTC) Callum Fawsitt
twinkie102
he is spamming a countdown and is saying shut up calling us noobs and so on you can check the logs for that.
Classified I.D (talk) 03:39, December 6, 2014 (UTC)
Colored comment
Hi, i'm wondering if you could make one script for me to get it: http://prntscr.com/5efq49 --~ MAWILE IS LOVE, MAWILE IS LIFE (Talk) 04:39, December 8, 2014 (UTC)
Idk what to put here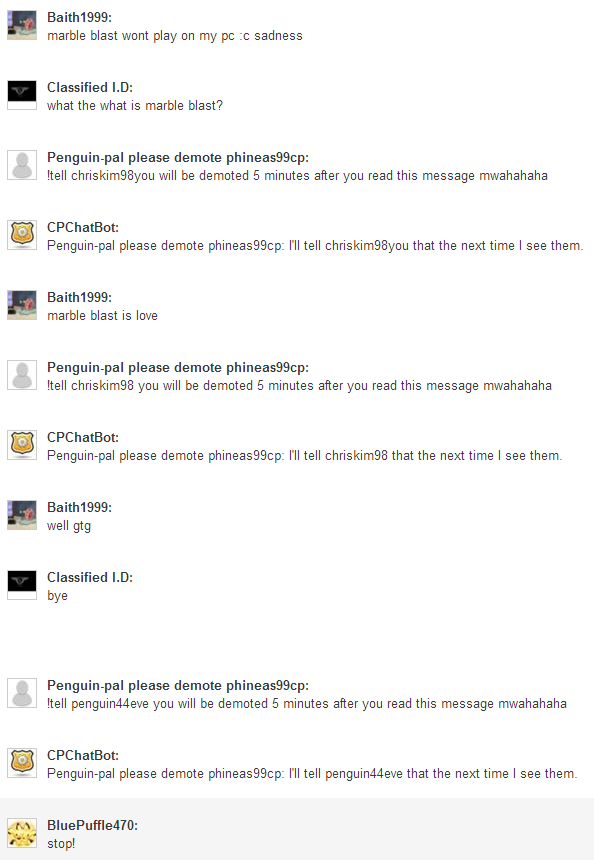 He also continued later on and he cussed
BluePuffle470 (talk) 07:20, December 11, 2014 (UTC)
HoildaysIggyContest
Hey Penguin-Pal!
Christmas is fast approaching and to get in the festive spirit, i'm hosting a Iggy Contest
find out more by clicking this link http://goo.gl/fEoHRj
but hurry submissions only last until 18th Dec

Happy Hoildays! :D
-Starry
May your Dreams be Wide 14:46, December 11, 2014 (UTC)