Welcome to the Club Penguin Wiki, PenguinMan15!
Hi there! Welcome to the Club Penguin Wiki, the free online encyclopedia all about Club Penguin! We hope you enjoy your stay here.


Here are some things that may help you get started:

User page - All users have their very own user page. Your user page is where you can write about yourself, your penguin, and many other things.
User talk - All users have their own talk page. User talk pages are used to receive messages from others. You can also leave messages on other users' talk pages. You can add your signature by typing 4 tildes (~~~~), or by clicking the button on the edit bar to do the same thing.
The wiki also has a forum and a chat, where you can start discussions about Club Penguin, editing, about the wiki, and other subjects.
Also, make sure all the actions you do- editing, commenting, chatting, etc., are following the wiki's policy.
You can also modify some of your account settings such as your signature at Preferences. If you want to learn how to make a cool signature, click here!
Other help pages may be found here.

If you have any questions, feel free to ask an administrator.
We're always happy to help!

fell free discuss anything you want Penguin-Pal (talk) 20:44, August 3, 2013 (UTC)
Hello! I hope you don't mind me telling you, but spamming is against our Policy. Mostly it's on the forums, and a lot of the time it has nothing to do with the thread itself. Can you stop it?
---
The Taco God 23:58, August 5, 2013 (UTC) 240
I wish I was seeing things...Edit
According to a thread post you put up, you're 9 years old...UNDERAGE. You might have to wait a minimum of 4 years... I don't want you to get in a ton of trouble...
Don't starve.... or rather, don't edit my user page. (talk) 21:20, August 11, 2013 (UTC)
Last warning Edit
Hello PenguinMan15:
This is your final warning. If you keep fighting with other users with anything related to pookies in our forums, you will be blocked per according to our Fighting Policy and Bullying Policy.
Have a good day:

--

If you try to prove Murphy's Law wrong, you're gonna have a bad time

00:55, August 13, 2013 (UTC)
What is Game Newbie?

JW | Talk | Blog | Contribs | More!
20:43, August 14, 2013 (UTC)
Happy Holidays!Edit
Whether you are celebrating Christmas or not, HAPPY HOLIDAYS! :)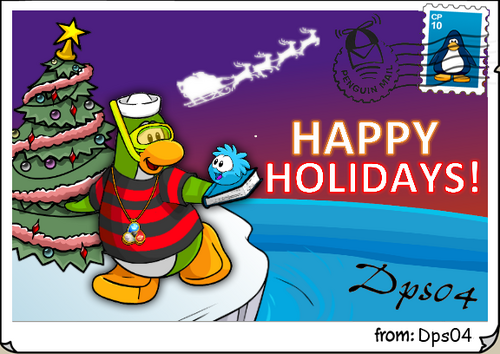 --

Dps04talk 05:07, December 23, 2013 (UTC)
Merry Christmas from JWPengie Edit
If you already got one, you get two! :P You might need an extra bed this year!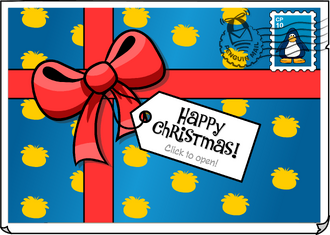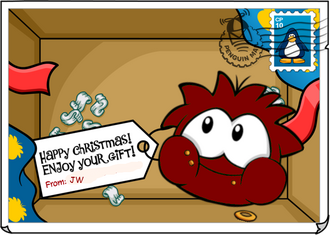 JWPengie rides the train! CHUGGA CHUGGA CHOO CHOO!!
12:10, December 24, 2013 (UTC)
RE:WIKI CHAT and other stuffEdit
Hi PenguinMan,
About your first topic, your ban was right. 2 of the kicks were for spamming, and the last one was for abusing caps lock, probably (though one of the first two also involved multiple all-uppercase words.
About your user page, was locked per the userpage policy in August, however, it's been unprotected for quite a while now, so if you're still getting an error while trying to edit your user page, please notify me and also mention what that notice says.
Penguin-Pal (talk) 05:27, June 13, 2014 (UTC)
HoildaysIggyContestEdit
Hey PenguinMan15!
Christmas is fast approaching and to get in the festive spirit, i'm hosting a Iggy Contest
find out more by clicking this link http://goo.gl/fEoHRj
but hurry submissions only last until 18th Dec

Happy Hoildays! :D
-Starry
May your Dreams be Wide 14:46, December 11, 2014 (UTC)
Re: Thread ClosingEdit
Hi, PenguinMan15.
Assuming you mean this thread, it has already been closed by an admin. By the way, in the future, please don't revive old threads (even if the thread is still open).
Thanks,
--Hey.youcp

06:24, June 17, 2016 (UTC)
Why is your location "in an igloo next to pixielil's"?Edit
R U a stalker?
Pixie is definitely not a little pixie! 01:28, November 22, 2016 (UTC) I dunno why?
ayy penguinmanEdit
you asked why you weren't in the p-p video so i put you in this one

23:00, December 26, 2016 (UTC)