Happy Easter
Happy Easter from Dps04!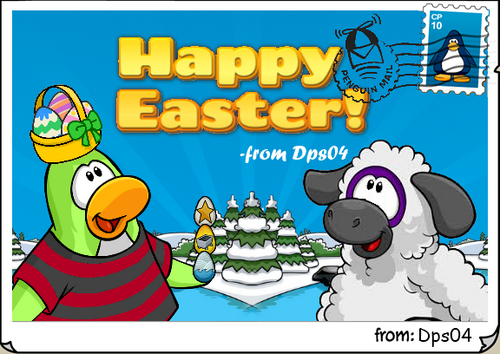 --

Dps04talk 17:02, April 6, 2015 (UTC)
Licensing Reminder
Hello Penguin Helper,
I've noticed that you have been uploading images that are not properly licensed. Please remember to use the proper licensing when uploading an image. If you are unsure of what licensing is or the proper one to use, this blog may help. It is very important to add this, so please keep it in mind next time you upload an image. If you have any further questions, feel free to contact me for assistance. Thank you for your attention.


--Hey.youcp

01:44, April 10, 2015 (UTC)
Re: File Licensing
Hi, Penguin Helper.
There's not much to explain about it. If you upload a file via Special:Upload, there's a drop-down list under the "Summary" box right next to "Licensing". You just select a license that corresponds to the file you're uploading. That's it.
Here are licenses for the most commonly uploaded images:
If it is a screenshot of Club Penguin or a cutout, select This is a screenshot or picture of Club Penguin or another game.
If it is a custom made using CP's files, select This image is a custom that was created using different Club Penguin files.
If it is a screenshot of a Wikia page such as chat, select This is a screenshot of a page from Wikia.
If it is a drawing that you drew or a real life picture that you took, select I took/created this photo myself.
It's okay that you haven't been adding licenses, but please add them from now on. It takes only a second and it helps categorize files (as most licenses have embedded categories) and give some information on the file, like what it is and where it's from (to some extent).
Thanks,
--Hey.youcp

04:08, April 10, 2015 (UTC)
Freak
If you don't want to get bullied in chat don't be so weird
Harajuku Girl (talk) 21:27, April 21, 2015 (UTC)
Community content is available under
CC-BY-SA
unless otherwise noted.