Welcome to the Club Penguin Wiki, Penguin Scorn!
Hi there! Welcome to the Club Penguin Wiki, the free online encyclopedia all about Club Penguin! We hope you enjoy your stay here.


Here are some things that may help you get started:

User page - All users have their very own user page. Your user page is where you can write about yourself, your penguin, and many other things.
User talk - All users have their own talk page. User talk pages are used to receive messages from others. You can also leave messages on other users' talk pages. You can add your signature by typing 4 tildes (~~~~), or by clicking the button on the edit bar to do the same thing.
The wiki also has a forum and a chat, where you can start discussions about Club Penguin, editing, about the wiki, and other subjects.
Also, make sure all the actions you do- editing, commenting, chatting, etc., are following the wiki's policy.
You can also modify some of your account settings such as your signature at Preferences. If you want to learn how to make a cool signature, click here!
Other help pages may be found here.

If you have any questions, feel free to ask an

administrator

.
We're always happy to help!

-- Dps04 (Talk) 19:50, March 30, 2013
Summer Card!
Have a great summer!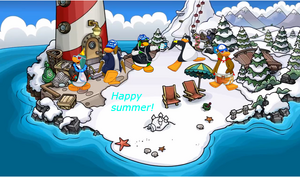 ~ From user:Autoeditior
Warning #1
Hello Rigby 666666,
Because of spamming in chat you have got a warning one. If you receive a warning two and then a warning three you will be banned from chat. Please click here for the chat policy.
Thank you,
--Roger6881 Waddle On! 14:58, June 12, 2013 (UTC)
RE: untitled message
Hello. You asked for a custom on my message wall, and if you mean custom penguin, I don't take requests. If you mean a penguin as an animal, or penguin as a nonsense object, please request on my blogs.
-
PROTECT PRESIDENT TUBS AT ALL COST !
Subject Here
Message here.
Sgt Mecha (talk) 13:54, August 6, 2013 (UTC)
Deal with it
Here is your deal with it gif.

Sgt Mecha (talk) 13:54, August 6, 2013 (UTC)
Merry Christmas from JWPengie
If you already got one, you get two! :P You might need an extra bed this year!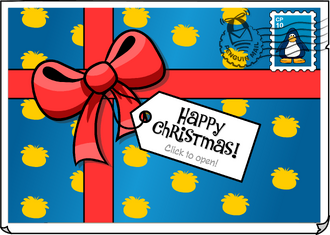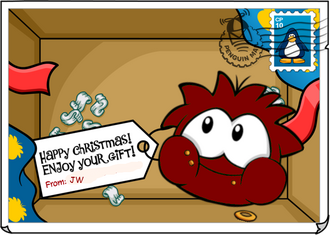 JWPengie rides the train! CHUGGA CHUGGA CHOO CHOO!!
18:58, December 23, 2013 (UTC)
Subject Here
Message here. Hi penguin scorn so u know how you think cp copied your oc in the muppets trailer well thats not a dingo or dyngo it looks like a less detailed orange tabby cat puffle as u can see http://clubpenguinspace.com/2014/03/club-penguin-app-1-4-information-revealed-dogcats-puffle-species-new-game-and-more/ normally cp dumbs down more detailed things in there animations. I hop this helps also cp usually comes up with puffles years or months before they are released from the Puffle Expert Adve3 Adve3thePuffleExpert (talk) 17:45, March 18, 2014 (UTC)
Community content is available under
CC-BY-SA
unless otherwise noted.