Leave a message if you wish.
Chat
Hi,
Could you come on the chat for a moment?

  (user · talk · blog · contribs · editcount · logs · block log · rights log) 16:10, May 2, 2013 (UTC)
CPCC 2013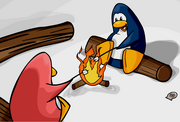 Dear user!
We'd like to let you know that the 2013 Camp Penguins Color Contest is on!
In the contest, you can nominate penguin colors, and the winner will win a prize! You can nominate until June 15th.
Thank you for your attention,
Penguin-Pal (talk) 12:23, June 7, 2013 (UTC)