Leave a message if you wish.
Chat
Hi,
Could you come on the chat for a moment?

  (user · talk · blog · contribs · editcount · logs · block log · rights log) 16:10, May 2, 2013 (UTC)
CPCC 2013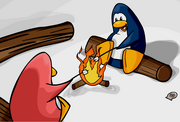 Dear user!
We'd like to let you know that the 2013 Camp Penguins Color Contest is on!
In the contest, you can nominate penguin colors, and the winner will win a prize! You can nominate until June 15th.
Thank you for your attention,
Penguin-Pal (talk) 12:23, June 7, 2013 (UTC)
Untitled
make more videos
PenguinMan15 (talk) 20:52, August 4, 2013 (UTC)
RE:Srsly?
Hi Sharkbate,
I forgot to check your chat activiry, sorry about that :P Lol but no need to be cynical to point it out :P If you want to become a chatmod again just contact me or another online admin.
Penguin-Pal (talk) 05:01, August 5, 2013 (UTC)
Oh
You joined in 2008?
Look at it in case you forgot!
SWF
Hey, could I use the wood part of this [1] swf for one of my customs?

Regards,
100px(talk) 19:47, August 19, 2013 (UTC)
Age
I was kidding about my age. I actually am 13.
-Berry
02:49, November 23, 2013 (UTC)
Merry Christmas from Twinkie102!
Heyy!
Merry Christmas! :D