Welcome to the Club Penguin Wiki, Shreyu16!
Hi there! Welcome to the Club Penguin Wiki, the free online encyclopedia all about Club Penguin! We hope you enjoy your stay here.


Here are some things that may help you get started:

User page - All users have their very own user page. Your user page is where you can write about yourself, your penguin, and many other things.
User talk - All users have their own talk page. User talk pages are used to receive messages from others. You can also leave messages on other users' talk pages. You can add your signature by typing 4 tildes (~~~~), or by clicking the button on the edit bar to do the same thing.
The wiki also has a forum and a chat, where you can start discussions about Club Penguin, editing, about the wiki, and other subjects.
Also, make sure all the actions you do- editing, commenting, chatting, etc., are following the wiki's policy.
You can also modify some of your account settings such as your signature at Preferences. If you want to learn how to make a cool signature, click here!
Other help pages may be found here.

If you have any questions, feel free to ask an

administrator

.
We're always happy to help!

Hey.youcp (talk) 05:25, July 31, 2013 (UTC)
Ugh
You did not join in September....
--
SMOOTH PEANUT BUDDER JELLY TIME!!!
User page protected
Hello Shreyu16,


Please note that your user page has been protected as your user namespace edits are more than 40% of your total edits (currently 164 userpage edits out of 594 a total). Your userpage will be unlocked when it's less than 40%. You can see the ratio of your user pages edits here. This policy is to prevent too many edits in user pages.
How to decrease my user page edits?
You can decrease your user page edits ratio by editing more in other namespaces, like Mainspace (ordinary articles), File (by uploading files) or Template.


Thank you for your attention.
Penguin-Pal (talk) 10:19, August 4, 2013 (UTC)
Club Penguin Reality Show
Dear Shreyu16,
04:02, December 3, 2013 (UTC)
We will be hosting a Club Penguin Reality Show Episode on Saturday, December 7th, at 11:00 AM PST . The current episode is You want me to do what?. Please be sure to arrive on time and be present for filming. We want to get each episode on it's correct air date for our viewers. If you have any problems with the filming time please contact me here.
Sincerely, The Club Penguin Reality Show Team
Merry Christmas from JWPengie
If you already got one, you get two! :P You might need an extra bed this year!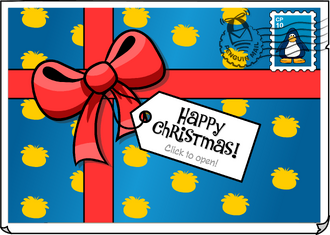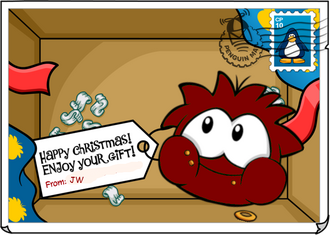 JWPengie rides the train! CHUGGA CHUGGA CHOO CHOO!!
18:58, December 23, 2013 (UTC)
Revenge Of The Penguin Island
It's a sled race! It involves mostly the team captains, both team captains will be sled racing three times. But the team captain that loses goes straight to the hurl of shame! No bonfire, no toxic marshmallow just getting hurled away by the other team captain.
Date: January 3rd 2014
Time: 12:00 PST
Server: Icicle
Awesomegamer100 (talk) 12:40, December 31, 2013 (UTC)
==Hello==--Kanpo1 (talk) 15:30, February 3, 2014 (UTC)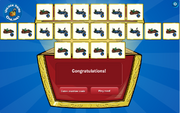 Enter the code BEARS418 to get the things in the picture Shreyu. BTW are u indian --Kanpo1 (talk) 15:30, February 3, 2014 (UTC) Is your friend
Community content is available under
CC-BY-SA
unless otherwise noted.