Welcome to the Club Penguin Wiki, Sonic23350!
Hi there! Welcome to the Club Penguin Wiki, the free online encyclopedia all about Club Penguin! We hope you enjoy your stay here.


Here are some things that may help you get started:

User page - All users have their very own user page. Your user page is where you can write about yourself, your penguin, and many other things.
User talk - All users have their own talk page. User talk pages are used to receive messages from others. You can also leave messages on other users' talk pages. You can add your signature by typing 4 tildes (~~~~), or by clicking the button on the edit bar to do the same thing.
The wiki also has a forum and a chat, where you can start discussions about Club Penguin, editing, about the wiki, and other subjects.
Also, make sure all the actions you do- editing, commenting, chatting, etc., are following the wiki's policy.
You can also modify some of your account settings such as your signature at Preferences. If you want to learn how to make a cool signature, click here!
Other help pages may be found here.

If you have any questions, feel free to ask an

administrator

.
We're always happy to help!

-- Penguin-Pal (Talk) 19:20, March 17, 2013
Summer Card!
Have a great summer!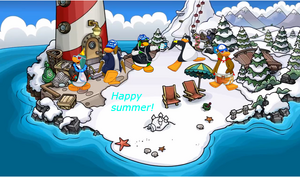 ~ From user:Autoeditior
Re:Secret agent file
A couple things:
Sign your name.
What time zone are you talking about?
What date?
Do you have another time for me?
I would never say no to a Rainbow Puffle!
--

1joshuarules, Journalism and Media Studies major at Monsters University and loyal member of OK. Feel free to contact me here. 01:24, July 8, 2013 (UTC)
Im new. Thumbwrumbler82 (talk) 14:40, July 12, 2013 (UTC)
You're invited
| | |
| --- | --- |
| | You're invited to JWPengie's Summer Party!! Get all the info here! I hope you can come!!! |
JWPengie | Talk | Blog

22:24, August 6, 2013 (UTC)
Halloween Costume Contest
RE: 4th Anniversary Party invitation
Hello Sonic
I really apologise for not responding your message until now. The problem is that my computer stopped turning on unexpectedly, making me unable to log on to the wiki. I've explained my problem in a blog post in case you're interested. Just click here to read my blog post for further information regarding to my problem.
-Phineas99cp August 27, 2016.
Community content is available under
CC-BY-SA
unless otherwise noted.