Happy New Year 2014!
Hey there! Happy New Year 2014!

Phineas99; Happy New Year 2014!

January 3, 2014
Re: Protect
Done. Thanks for notifying me. Cool signature by the way. ;)
--Hey.youcp

22:46, January 11, 2014 (UTC)
Garianna
For the last time, the Garianna image is simply color enhanced, not custom. It's already been approved on chat. Stop removing it. 100px(talk) 23:09, January 17, 2014 (UTC)
Question
Where did you get the logo of Sled Racing from?
Kallie Jo (talk) 19:33, March 16, 2014 (UTC)
RE:Kermit's Signature
Hi Spore,
Thanks for notifying me about this. I've uploaded an inverted version of it.
Penguin-Pal (talk) 11:28, March 28, 2014 (UTC)
RE:Club Penguin Wiki Background Nomination
Hi Spore,
No background nominations have started yet, so there's no point in nominating one yet (though you may desing your own for now and upload it when it begins). Anyway, note that a background must also contain details on its sides. If you only include details in its middle, the wiki page content will hide it and all you are left with is a solid background.
Penguin-Pal (talk) 05:21, April 16, 2014 (UTC)
It does count
Dude, meeting the Microbots u can do as a sprite on cp. U fight them in space, and u see them. Anyway i think it should be changed back. what do you think? Bongi6 (talk) 14:34, May 24, 2014 (UTC)
???
Where did you guys get the info where the hqs were for the teams in the penguin cup?
Bongi6 (talk) 13:24, June 13, 2014 (UTC)
Hi! :) Guess who got a present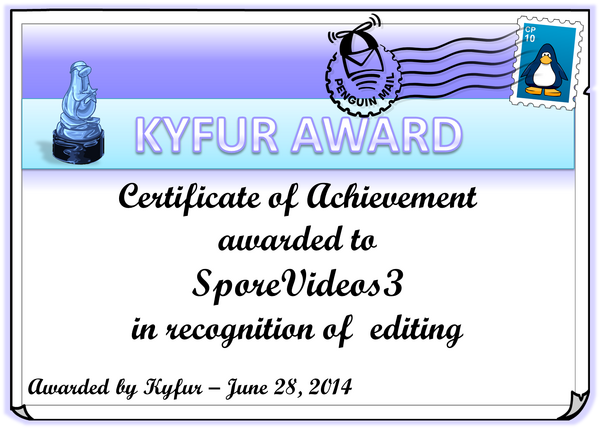 ✓ Kyfur

(talk) 06:36, June 28, 2014 (UTC)
RE:Imawesome45
I usually don't block users who make good faith edits. I will just protect the page next time, and leave a message on his talk page.
Kallie Jo (talk) 14:44, July 21, 2014 (UTC)
Why do you keep deleting Sasquatch from the Famous Characters page, while he is an official mascot on Club Penguin.

Happy Earth Day From: Santa Jr2 18:32, August 10, 2014 (UTC)
Licensing Reminder
Hello SporeVideos3,
I've noticed that you have been
uploading images
that are not properly licensed. Please remember to use the proper
licensing
when uploading an image. If you are unsure of what licensing is or the proper one to use,
this blog
may help. It is very important to add this, so please keep it in mind next time you upload an image. If you have any further questions, feel free to
contact me
for assistance. Thank you for your attention.

Community content is available under
CC-BY-SA
unless otherwise noted.