Welcome to the Club Penguin Wiki, ThinkDoodles!
Hi there! Welcome to the Club Penguin Wiki, the free online encyclopedia all about Club Penguin! We hope you enjoy your stay here.


Here are some things that may help you get started:

User page - All users have their very own user page. Your user page is where you can write about yourself, your penguin, and many other things.
User talk - All users have their own talk page. User talk pages are used to receive messages from others. You can also leave messages on other users' talk pages. You can add your signature by typing 4 tildes (~~~~), or by clicking the button on the edit bar to do the same thing.
The wiki also has a forum and a chat, where you can start discussions about Club Penguin, editing, about the wiki, and other subjects.
Also, make sure all the actions you do- editing, commenting, chatting, etc., are following the wiki's policy.
You can also modify some of your account settings such as your signature at Preferences. If you want to learn how to make a cool signature, click here!
Other help pages may be found here.

If you have any questions, feel free to ask an

administrator

.
We're always happy to help!

-- Hey.youcp (Talk) 22:18, March 16, 2013
Happy Easter :D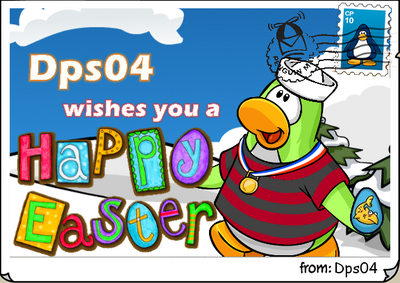 --

Dps04talk 16:29, March 30, 2013 (UTC)
Happy Easter from Twinkie102!
Happy Easter, Nicov0331!! :D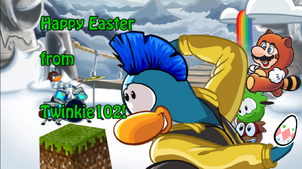 Easter Gift
Happy Easter Nicov0331! Enjoy the Gift! --
Mariocart25
(
talk
) 23:00, March 31, 2013 (UTC)
Happy Memorial Day from Mariocart25
Rather you celebrate it or not, HERE!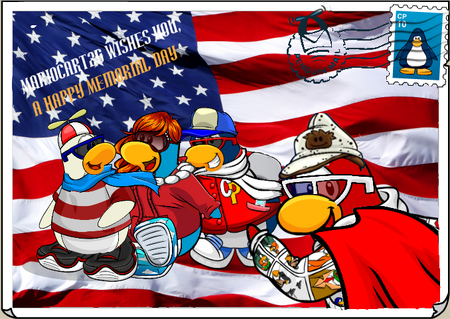 Mariocart25
14:32, May 31, 2020 (UTC)
Summer Card!
Have a great summer!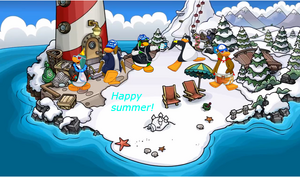 ~ From user:Autoeditior
Top trumps
Hopefully you like it!
-
PROTECT PRESIDENT TUBS AT ALL COST !
RE: Custom Penguins
Hi Nicov,
I can't do custom penguins right now, Im only doing Monsters University Customs Penguins So Sorry! By the time im done with the Monsters University Customs Penguins, I will accept them again, Thanks for your Attention.


Mariocart25
17:34, June 16, 2013 (UTC)
Something
Name
Hello there. How do i change my name? --OMG! Cadence is here! (talk) 20:38, July 10, 2013 (UTC)
How do you change your name
Minor edits
Hello,
When performing minor edits (e.g. grammar corrections, fixing incorrect data), please use the minor edit button. You can do that by marking the "minor edit" box above the Publish button of pages. Doing so helps us view edits and sort through them.
--
Roger6881
(Contact me!)
14:42, August 1, 2013 (UTC)
Hey!
I do stores and other fun things on my blog. If you dare, be my friend. Also, happy 2019.
hi ( ͡° ͜ʖ ͡°) (talk) 13:39, January 19, 2019 (UTC)
Community content is available under
CC-BY-SA
unless otherwise noted.