Loading music... CREDIT GOES TO TECHMAN129 FOR THE MUSIC.
Welcome to the Club Penguin Wiki, Titanium Ninja!
Hi there! Welcome to the Club Penguin Wiki, the free online encyclopedia all about Club Penguin! We hope you enjoy your stay here.


Here are some things that may help you get started:

User page - All users have their very own user page. Your user page is where you can write about yourself, your penguin, and many other things.
User talk - All users have their own talk page. User talk pages are used to receive messages from others. You can also leave messages on other users' talk pages. You can add your signature by typing 4 tildes (~~~~), or by clicking the button on the edit bar to do the same thing.
The wiki also has a forum and a chat, where you can start discussions about Club Penguin, editing, about the wiki, and other subjects.
Also, make sure all the actions you do- editing, commenting, chatting, etc., are following the wiki's policy.
You can also modify some of your account settings such as your signature at Preferences. If you want to learn how to make a cool signature, click here!
Other help pages may be found here.

If you have any questions, feel free to ask an

administrator

.
We're always happy to help!

Ocean6100 (talk) 21:25, January 9, 2014 (UTC)
RE:Subject Here
You said you were in first grade.
Dino JW! Talk! Blog! Contribs! Editcount!

22:12, January 26, 2014 (UTC)
Subject Here
Message here.

18:13, February 3, 2014 (UTC) You can have the background for free!
Happy Valentine's Day!
Hi Titanium Ninja! I hope you have a very happy Valentine's Day ;)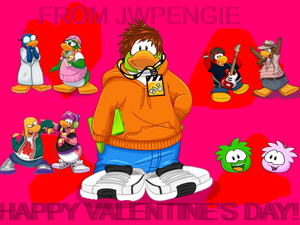 The Magic JW! Talk! Blog! Contribs! Editcount!

18:24, February 3, 2014 (UTC)
Chat
Hello Board.
Tech has shown me a picture of another message you sent.
Here is the picture he has sent: http://prntscr.com/30thux
If you attempt another action like this, I'm going to have to report you to an admin and get their opinion.
Ain't nobody got time fo' dat! 01:17, March 15, 2014 (UTC)
Annoying Twinkie on chat

Hello. I recently saw you annoying Twinkie, and I hate doing this, but it stops NOW. I don't want to have to listen to this crap and neither does Twinkie, so please stop, you can get banned for being an annoyance. You are being reported to an admin right now.

02:15, March 15, 2014 (UTC)
RE:I DIDN'T DO IT!
I looked closely at the chat logs, and turns out WikiaMaster showed Twinkie a picture of what you said from yesterday, but Twinkie thought it was from today, and you were wrongfully banned. I apologize for this, and you have now been unbanned.
Kallie Jo (talk) 15:22, March 15, 2014 (UTC)
RE:I'm an idiot for spamming...
Sorry for the inconvenience, but you'll just have to wait out the ban.
Kallie Jo (talk) 21:55, March 27, 2014 (UTC)
Reply
Your ban will expire later today. No, it has not been extended. Kallie Jo (talk) 16:37, March 29, 2014 (UTC)
About Kyfur

Hello, I saw you teasing Kyfur on his user talk. Please don't. As you obviously didn't take any notice to my first warning, you're on thin ice.

07:40, April 5, 2014 (UTC)
Forum
Hi Titanium,
Please remember to keep your manners in the forum. I'd like to remind you that due to your recent messages in the discussion parties in 2014. Don't post mean or rather rude messages there.
Penguin-Pal (talk) 09:10, April 17, 2014 (UTC)
RE:RE: Forum
Hi Titanium,
I wasn't talking about your saying bullcrap, i was actually talking about this message- just thought there are more pleasent ways of putting this together, though i must admit, it's kidna minor :P so sorry about the message about this particular comment.
Anyway, about people younger than 13, even though they can't (well, in theory, unless you fake your age :P) edit or leave comments, they still have access for reading it.
Penguin-Pal (talk) 13:02, April 18, 2014 (UTC)
Happy Easter 2014!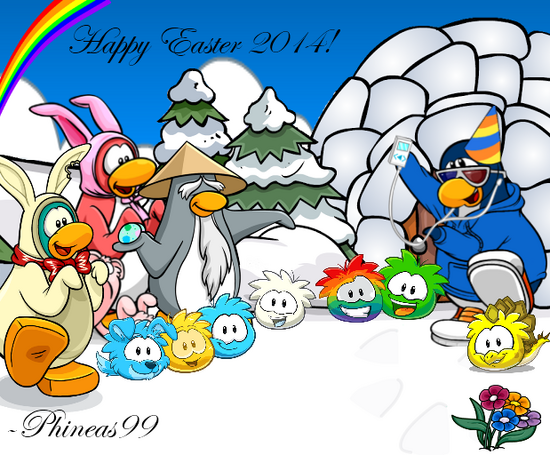 6th Penguin Pirate Anniversary!

April 21, 2014
Happy Earth Day!
Hey its your friend Cool Pixels and this an Earth Day Greeting Card for you and Don't forget the Three Earth Day Words Reduce, Reuse and Recycle!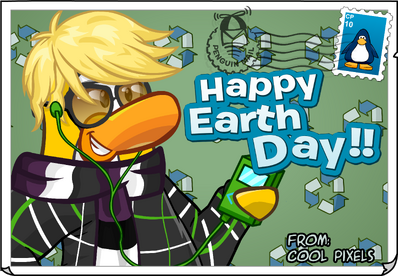 Reduce, Reuse and Recycle!

05:56, April 22, 2014 (UTC)
Igloo Contest
Voting Started at http://clubpenguin.wikia.com/wiki/User_blog:Cool_Pixels/Igloo_Contest and The voting will be over after 6 days (30th April!) You are invited to vote for The Best Igloo and may the best one win! All the Contestants (Your Friends) are waiting for your Votes! Please Vote!

Igloo Backyard; Puffle Food; Puffle Party, Puffle Dig!

15:58, April 24, 2014 (UTC)
IDK
Perapin said on his talk page "Someone let Titanium Ninja know that I'm available to talk to here if he is thinking of quitting."
BlackPufflesbot reporting for duty

06:25, May 27, 2014 (UTC)
RE:Hey
Yo Titanium Ninja, never heard of you before. Yes, I know he's a Muslim, since he joined actually. I've also noticed that he has been blocked, he has told me about that. And, no I'm not returning because I've quit the wiki already.
Arsenal55702 (talk) 14:21, June 18, 2014 (UTC)
RE:Just to tell you....
Thanks for the message! :) I know you hate me but I don't care. I want to be friends with you but I cant. #HatersGonnaHateDoge


00:09, July 2, 2014 (UTC)
RE:Just to tell You....
Ninja! What are you saying!? This is mean to Chris, and if you haven't known, he may be quitting in August. You shouldn't just quit because of Chris. If he does leave, then there would be no reason for you to quit! So please, control your behavior next time.
Behavior
Hi Titanium,
Please note that messages like the one you left on Chris's talk page are not acceptable. You may contact chatmods or admins about bans or how others behave, but please keep your manners.
Penguin-Pal (talk) 14:13, July 2, 2014 (UTC)
Notice
Hi Titanium,
Congratz for rehng your 500th edit, first of all :P
Please note that as you've previously been warned about leaving mean messages, and did the same yesterday on Callum's talk page (cool elephant though :P), you're now blocked for 24. Please remember to follow the rules, and in particular, not to send others mean or offending messages.
Penguin-Pal (talk) 19:18, July 11, 2014 (UTC)
RE:Block me for a month
Hi Titanium,
I see that you are banned already. If you have mean comments, please leave them for yourself. Feedback is great but there are manners and rules to go by.
Penguin-Pal (talk) 18:11, July 15, 2014 (UTC)
RE:hi
Pookies are cool but some of them are ugly with the make-up and brown colour.

The Puffle Planet loves puffles!

15:55, August 16, 2014 (UTC)
So ...
As requested: how are you? --Roger6881 (talk) 14:05, August 17, 2014 (UTC)
Mlp protest wiki
NO THEY CLOSED IT SADLY!!!!!
User:Kanpo1 19:34, August 26, 2014 (UTC)
Membership contest
I'll end it when 20 people join. Deal?
Bangarang.
06:25, August 27, 2014 (UTC)
RE:Custom Program
Hello Titanium,
I use Paint.NET, and get my cutouts normally from Club Penguin Cutouts, but sometimes a cut them out myself with SWFModify.

Jess0426; Be Frozen!

15:00, August 27, 2014 (UTC)
RE:Club Penguin Updates Blogs
Hi Titanium,
You sure can. If a blog about a recent update contains enough details, it may be added by an admin to the home page feed. If your blogs arent featured on the first weak, dont worry :) You'll still have plenty of time to try again and have your blog featured there!
Penguin-Pal (talk) 18:58, September 4, 2014 (UTC)
Hi me!
Swag.
Volvo Ninja (talk) 00:50, September 16, 2014 (UTC)
RPA Chat
Come to the RPA Chat.
                 -Golden Flakes

RE:Chat not working
Hi Titanium,
It seems like wikia's been having all sorts of problems today, including the chat error (even though CPCB and i had a party for like 6 hours as it worked for us :P). Even chat works now, it's still somewhat derping. All issuses would probably be resolved by tomorrow.
Penguin-Pal (talk) 20:24, October 15, 2014 (UTC)
RE:Dear Admin,
Hi Titanium,
Something like that went on early yesterday, though i'm not sure if it reoccured.
Penguin-Pal (talk) 00:13, October 20, 2014 (UTC)
RE:Problems With Concession
Hi Titanium,
I couldn't exactly get the full story, but i'll notify Concession about this.
Penguin-Pal (talk) 06:19, November 1, 2014 (UTC)
Hello
I just wanted to tell you that if I had any dude I'll let it here ~~~~
So this is what happens when I'm not here?
[2014-11-14 21:45:16] <Titanium_Ninja> yay miron is gone!!!!!!!!!!!!!!!!!!!!
[2014-11-14 21:45:19] <Titanium_Ninja> miron sucks!!!!

[2014-11-14 21:46:13] <Titanium_Ninja> no miron abused children

[2014-11-14 22:09:34] <FuzzyHamster> Miron was sort of a jerk to me
[2014-11-14 22:09:42] <WikiaFrog> he was never a jerk
[2014-11-14 22:10:02] <Titanium_Ninja> WF, oh yes he was... A big jerk.

CPW User Games BACK ON!!
Hi Titanium Ninja
The CPW User Games are back on and Round 9 is beginning in 2 days on November 18 so get ready for it. The rounds will get harder and harder so get prepared. Good Luck!
Agent Unknown (talk) 10:16, November 16, 2014 (UTC)
RE:RE:CPW USER GAMES BACK ON
Agent Unknown (talk) 14:53, November 16, 2014 (UTC)
Happy Thanksgiving! from FuzzyHamster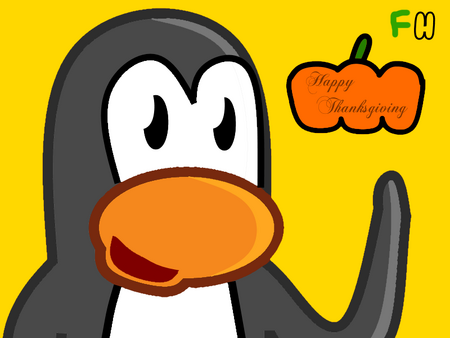 Work like a captain, play like a Pirate!

08:40, November 27, 2014 (UTC)
hi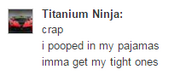 Ssss...BOOM (talk) 13:42, November 28, 2014 (UTC)Minecraft Creeper
Happy Holidays!
HAPPY HOLIDAYS! from Dps04 :)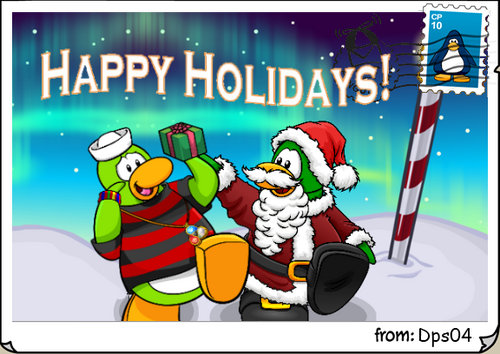 --

Dps04talk 15:07, December 19, 2014 (UTC)
Holiday Greeting
Happy Holidays! From Fuzzy.

Evil is back in town, in just the right time to ruin Christmas!

01:09, December 26, 2014 (UTC)
Licensing Reminder
Hello Titanium Ninja,
I've noticed that you have been uploading images that are not properly licensed. Please remember to use the proper licensing when uploading an image. If you are unsure of what licensing is or the proper one to use, this blog may help. It is very important to add this, so please keep it in mind next time you upload an image. If you have any further questions, feel free to contact me for assistance. Thank you for your attention.


--Roger6881 (talk) 19:54, January 11, 2015 (UTC)
Happy (late) New Year 2015!
Hey <insert name here>. Happy (late) New Year 2015! Here's a collage of all the users and characters from CP, CP Wiki, and the CP Spanish Wiki. Try to find yourself! If you do not find yourself, then I seriously apologise since
It was full
Perhaps you didn't have a custom penguin of your penguin
Either way, I highly appreciate for a wonderful 2014 and a bright new year 2015.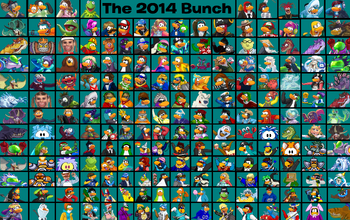 Time to rock out!

February 22, 2015
Constant unban requests
Titanium Ninja, I'm going to have to ask you to stop requesting your unban. Seeing how your chat ban log is extensive, we're not going to unban you. If you keep asking any other moderator or administrator to unban you, I will have to start blocking you.
Have a nice day!
—Vicyorus (talk) 15:44, March 1, 2015 (UTC)
PS: I also said no to the unban request, so I see no reason to keep asking ;) –Watatsuki 15:49, March 1, 2015 (UTC)
Ban
"Why was I banned? I was just stating facts"

<Titanium_Ninja> ROGER
<Titanium_Ninja> U SUCK


<Titanium_Ninja> WHERE THE HELL IS THAT ROGER KID
<Titanium_Ninja> I WANT HIM GONE
<Titanium_Ninja> HE'S A JERK


<Titanium_Ninja> Watatsuki is an evil dictato-

Ah yes, very nice facts. Now, I do not block people for no reason. I do not care if you get rights or not, and I do not have any intentions of changing the policy.
The thing is, saying such things about other people is not acceptable. No matter how much you hate Roger, or anyone else (including myself) you cannot say those things. I am not letting you off easy either, you have been warned many times for bad behavior, and I am seeing no change in that behavior. I suggest you change it, if you wish to stay. (which you clearly do, considering you continue to come on chat, despite expressing your hatred for this wiki, and "quitting" multiple times, no?)
–Watatsuki

17:50, April 11, 2015 (UTC)
Yes, facts. I cut off the evil part. And there is more proof that Roger DID create those sockpuppets than he didn't, even your friend said that there is not solid proof that he is innocent. He was whining on chat. You extended my first block of the year for a month for a "comment" that you didn't even tell me, and IT WASN'T EVEN ON WIKIA. You were unfair with Roger, and me. When Roger was accused of creating sockpuppets, he was IP checked and his original IP did not match with the sockpuppets. HE COULD'VE CHANGED HIS IP!!!!!!!!!!!!!!!!! Now when I was blocked for being a sockpuppet, you just ASSUMED IT WAS ME, you refused to IP check me because you said I could've changed my IP. Now you still think I am creating sockpuppets but you only unblocked me "JUST because people keep complaining, I am going to unblock you, although I will not at all be surprised if you come on chat and troll again just to get banned then complain some more". Seems legit brah. My last block was for inapp. language, usually for that it's 1-3 days. But you did a week. You just extend my block, just like what you do when you extend my ban for the history I have. Am I from Mars? Am I different? I never announced I quit except once. Even when I'm blocked or banned and I don't come on after I am unbanned, that means nothing I quit. So that's what I want from you, ever since Roger and the wiki rebellion started in December. That's what I want for my birthday, jk. But YOU need to start getting upon your act.

i liek cheez

18:10, April 11, 2015 (UTC)
IMPORTANT MESSAGE
Meanwhile in Canada... https://www.youtube.com/watch?v=5AuLkMBAFZg
--

YEAH GIVE HER A PIZZA

05:19, July 5, 2015 (UTC)
Community content is available under
CC-BY-SA
unless otherwise noted.