May The 4th Be With You!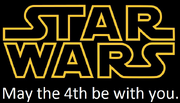 Hey!
May The 4th Be With You!
Callum Fawsitt (talk) 23:21, May 4, 2014 (UTC) Callum Fawsitt
Customs for you
I looked at your past blog posts, and I saw your I GOT MUSCLES penguin custom. So I took it and changed it's colours. So I have lot's of them in different colours basically. Do you want to see them?
TheNintendoKing (talk)TheNintendoKingTheNintendoKing (talk)
RE:Reporting Callum
Hi Twinkie,
I've seen the following notices about this so called "attack", and note that an organized bullying attacks such as this is completely unacceptable. Especially as a user with chat mod tools, you should show a little bit of respect and keep your manners, and also follow the policy as an example for everyone.
Penguin-Pal (talk) 08:03, May 10, 2014 (UTC)
Here are your customs
Nothing special, but whatever. Enjoy! :D
Chat
Hi Twinkie,
Recently a user complained that you were making sexual references on chat. I checked the logs thoroughly, and I found out that one of the replies you made (<Twinkie102> WERE U IN BED?) to wikiafrog's inappropriate comment may be deemed as offensive, as it may be interpreted as "referring to sexual text", which is explicitly prohibited according to the policy. Whilst I understand that comment of yours was meant to be a joke, and I am pretty sure you did not intend to refer to sexual text in it, still, please be reminded to refrain from replying to inappropriate comments (such as that made by wikiafrog) in a joking manner. Thanks :)
P.S. Don't worry, This is just a reminder, not a warning. I am by no means suggesting that you have violated the policy :)

Dps04talk 04:01, May 17, 2014 (UTC)
Pixel Awards
Congrats! You have been nominated by JWPengie (For becoming The Funniest User) for Pixel Awards hosted by me.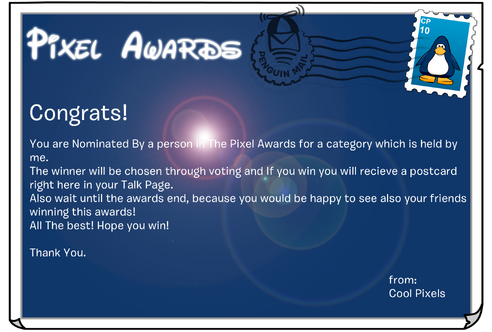 Cool Pixels; To; The; Future!

17:25, May 24, 2014 (UTC)
Jazzy Award
Here ya go :D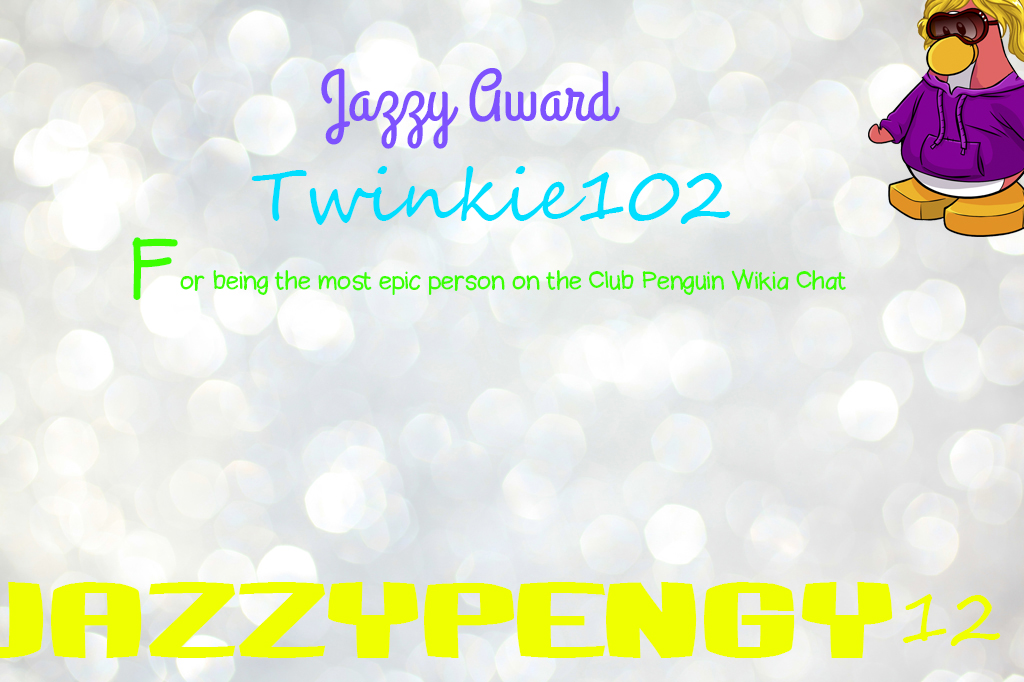 Jazzypengy12 (talk) 20:48, May 27, 2014 (UTC)Jazzypengy12
Summer Shenanigans 2014!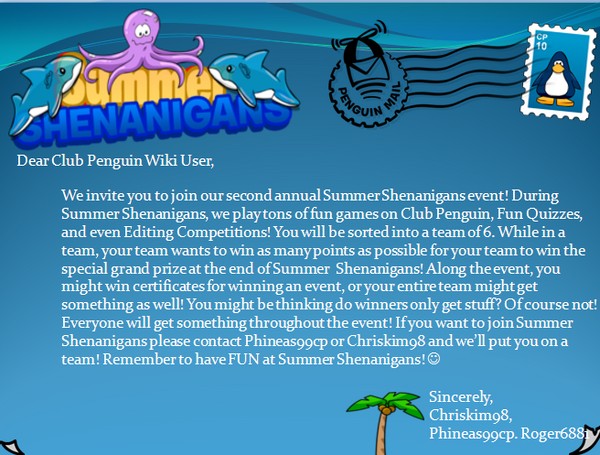 01:23, May 31, 2014 (UTC)
Hello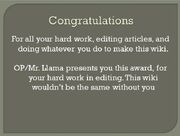 Hello
I have recently saw you eating my bacon burgers. I reported you to the bacon-cheese-key police which contains 3 random words.
BACON BURGERS R KEWL 16:11, June 8, 2014 (UTC)
RE:Emotes
Hi Twinkie,
Must be caching.
Penguin-Pal (talk) 06:53, June 14, 2014 (UTC)
Interview
Ok I had to leave, these are your last 2 questions:
What games do you like to play besides CP?
Okay and one last question. Why is your icon a duck?
plz answer

JWPengie; Do you like waffles?
18:04, July 2, 2014 (UTC)
Happy 4th of July!
Hi There!
Happy 4th of July!
Callum Fawsitt (talk) 23:39, July 4, 2014 (UTC) Callum Fawsitt
Re: Complaint
Complaint noted.
--Hey.youcp

01:49, July 14, 2014 (UTC)
Re: I'm sorry
APOLOGY ACCEPTED!
I'm a Chocolate Eclair! 21:38, July 17, 2014 (UTC)
Chat reminder
Hi Twinkie,
I've been informed that you took part in a chat war early on July 17. Please remember that chat wars (or other mass roleplaying) are not permitted in chat, and if you're willing to hold one, please do that in another chat or at least in a multi pm or an ordinary pm.
Thank you for your attention,
Penguin-Pal (talk) 05:31, July 18, 2014 (UTC)
I second this
hi all good things all good things
WELCOME BACK FRIEND :D

You must trick or treat... or die!

23:23, October 22, 2014 (UTC)
woah
u were admin?
TheNintendoKing (talk) 08:06, October 28, 2014 (UTC)TheNintendoKing
Happy birthday!
| | |
| --- | --- |
| | A user has given you a birthday cake! Cakes promote WikiLove, especially on birthdays and hopefully this one has made your day a little better. Spread the WikiLove by giving someone else a cake on their birthday, whether it be someone you have had disagreements with in the past or a good friend. Bon appetit! |
--Roger6881 (talk) 00:04, November 16, 2014 (UTC)
Happy Thanksgiving! from FuzzyHamster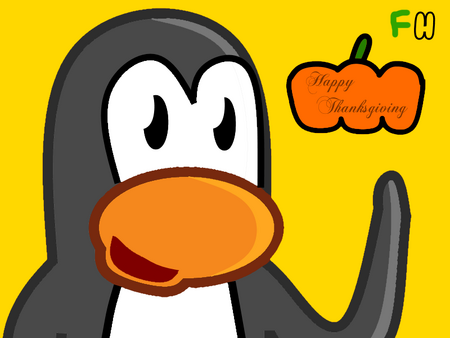 Work like a captain, play like a Pirate!

08:38, November 27, 2014 (UTC)
Happy (late) New Year 2015!
Hey <insert name here>. Happy (late) New Year 2015! Here's a collage of all the users and characters from CP, CP Wiki, and the CP Spanish Wiki. Try to find yourself! If you do not find yourself, then I seriously apologise since
It was full
Perhaps you didn't have a custom penguin of your penguin
Either way, I highly appreciate for a wonderful 2014 and a bright new year 2015.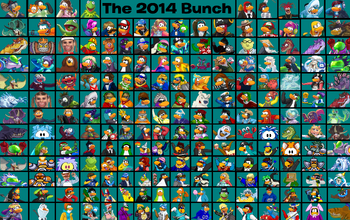 Community content is available under
CC-BY-SA
unless otherwise noted.