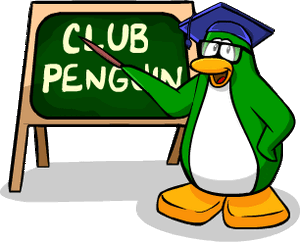 Welcome to the Club Penguin Wiki, Vikey3067!
Hi there! Welcome to the Club Penguin Wiki, the free online encyclopedia all about Club Penguin! We hope you enjoy your stay here.
If you want to discuss improvements to a page, use its talk page. A talk page is the discussion section for the page it is about. User's have their own talk pages so that different people can message them. The page you are on now is your talk page, which will be used to receive messages. Whenever you make a comment on a talk page, be sure to sign your post with your signature. You can do this by typing 4 tildes (~~~~). You can also click the

button on the edit bar to do the same thing. There is also IRC, where you can also talk about the wiki (for help, or for general discussion about it) or socializing, like a talk page, but in real time.
All users have their very own user page. User pages are pages in which the user, who owns the page, can describe themselves. Feel free to fill out your user page with information about yourself, and anything else you would like to say.
A few users called Administrators have extra tools to maintain the wiki. They have special abilities such as blocking users, deleting pages, reverting edits, and a few others. Administrators' names will normally show in green. A list of Administrators can be found here. If an admin asks you to stop doing something, it is best to respect their request and do as you are told. Sometimes not listening to them in cases where you are breaking our policy may result in a block.
Before you begin editing, we also kindly ask you to read our policy first, to avoid any blocks and to be aware of our rules.
Editing is the act of changing a page, adding information onto it. Your knowledge of the game is the prime reason why we are a large website. Pages are divided into many namespaces, ranging from our article mainspace (about Club Penguin) to userspace (about you and the users) to projectspace (about the wiki itself). Articles are our most important pages that are informative and have information on different things on Club Penguin. An example of an article would be the Coffee Shop page. To edit a page, click the "Edit this page" button on the top of the page.
Please note that this wiki is not a forum, but we do have a forum that can be used to simply chat, talk about wiki issues or project new ideas!
If you make a mistake while editing, do not stress! Just go to the bottom of the article and click "Report a problem on this page". Just explain what happened. If you intentionally mess up a page, you will be blocked from editing, per our policy.
There are many more advanced things that you will learn as you go on. However, it is important that you check out our Manual of Style. If you are not aware of the rules in the Manual of Style and Policy, you could be blocked, and it won't be our fault that you were not informed. Therefore, it is very important you go through the manual of style.
You should read What the Club Penguin Wiki is not.
For more help when editing wikis, visit Our Help Center.
You can also modify some of your account settings such as a signature at your Preferences. If you want to learn how to make a cool signature, click here!
If you have any questions, please contact Awesome335, Sdgsgfs, Penguin-Pal, ShrimpPin,Happy65 and Mixer2301.
Thanks! And, once again, welcome to the Club Penguin Wiki! We are looking forward to working with you!


-- Mixer2301 (Talk) 12:18, March 22, 2012
Earth Day Party
come to the Earth Day Party
When:22 USA,23 ENG
Where:Parka,Dock,igloos,Snow Forts,Recycle plant and Town
what we will do:use the Arctic White,Animals Costumes and...Explore!! | time:5:00 P.S.T.

if i dont come the party is closed
Template
Hello there, I have finished your template.
If you have any more templates in mind contact me thank you,
04:21, June 22, 2012 (UTC)
Pictures
We need less blurry pictures for the wiki, so I suggest you download this to your computer:
This software is virus free.
None of the pictures you take will be blurry.
I hope you are able to download this!
---

Loki, the king of Club Penguin.

11:29, June 27, 2012 (UTC)
Picture
Ello there. I'm replying back to the message you left me. From what you said, you want a user picture, is that correct? If so, please leave me another message with the items you would want on your penguin, the penguin's color and anything else. Once I have that information I'll try to complete your request asap when I have some free time. Thanks.
Choco Late9
01:01, July 22, 2012 (UTC)
RE:request
I'm almost done with your penguin now. Did you want any kind of background with your name? Or would it be all right just to be transparent? (no background)
Choco Late9
18:21, July 22, 2012 (UTC)
Result
Yup, I know that background. I finished your penguin as well, so here's the finished picture. Hopefully everything is all right with it.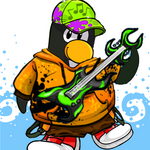 Choco Late9
15:57, July 23, 2012 (UTC)
RE:One more thing
What do you mean? As your user picture, you just need to change your avatar. Save the picture to your computer somewhere then upload it. Is that what you meant?
Choco Late9
15:36, July 24, 2012 (UTC)
Free items for all!
Dear user!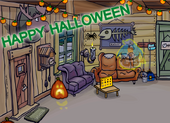 You were given a link that will allow you to win a free gift! The link will be only accessible as the Halloween Party 2012 starts. Please return on October 18, and pick up your free gift!
Click
Here
to win your free gift!
Ocean6100 (talk) 20:25, October 2, 2012 (UTC)
Surprise
Hello Vikey3067,
I am doing a surprise with a gift a template. In order to get the surprise wait until the 10 October.
Click
Here
to win your free gift!
Cap123 (Talk)
09:19, October 4, 2012 (UTC)
Your requested icon
Hey Vikey! Here's your icon.
See you around!
--Ocean6100 (talk) 23:59, December 14, 2012 (UTC)
About your Audition . . .
Congratulations! You got the part. In the story, you'll be Random Penguin #2. I'll contact you with the times when we're filming the story, so keep your eyes peeled. Also, go back to my blog post to collect your prizes.
Present
~123kitten1
RE: Request
Sorry, I don't do non-mascot penguins.SandorL (talk) 22:51, January 12, 2013 (UTC)
About
Hey Vikey3067! Here's the info you wanted:
What do I use to make avatars?
Well, if by the program I use, then I use Adobe Photoshop Elements 8.0.
If you mean where I get the material? I use Club Penguin Cut-outs, and sometimes .swf files.
Where can I download it for free?
Unfortunately, I can't find a place where you can download it for free. Here's the link, but it costs a good bit of money. However, if you look around, you may find a free trial. Matter in fact, if you look around the site I linked to, you may be able to find a free trial right on the site!  :)
Hope this helps!
--Ocean6100 (talk) 22:34, January 14, 2013 (UTC)
Update
Filming for Time Waits for No Penguin is starting now in Sled. Please report there soon. --

1joshuarules, the penguin. You can contact me here. 18:04, January 19, 2013 (UTC)
About customs
'Ello, Vikey! Out of all the avatars, I can only handle one (that'd look fairly decent). Hope you like it!
Hope you understand.
See ya!
--Ocean6100 (talk) 19:01, January 30, 2013 (UTC)
About customs
Hai again, Vikey! I'm not accepting custom penguins orders right now. Some of the reasons are lack of will, and I also have some limitations. Hopefully in the future I'll be able to have something that will help me draw items better. :) I hope you understand. Maybe next time! ;)
--Ocean6100 (talk) 21:32, February 7, 2013 (UTC)
What do you mean? Are you saying you want a custom, because I can do really good ones. -Edrussell1203
Custom Avatars
I use Club Penguin Cutouts and GIMP.
Sorry, but I can't give you a download link for the avatars.
Eggy14368 (talk) 14:51, April 14, 2013 (UTC)
=RE:I'm blocked!
Hi You are not blocked, If you were blocked you wouldn't be able to edit. I don't know why you cannot go on the chat.. Apj26
Merry Christmas!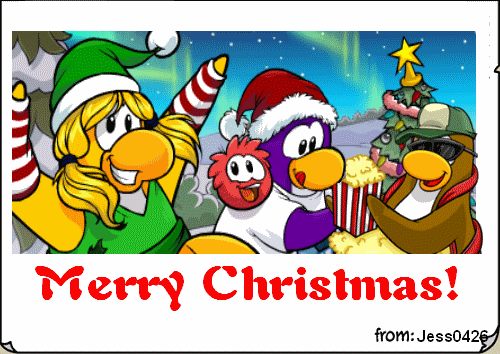 22:18, December 23, 2013 (UTC)
Happy New Year!
Happy New Year! Remember NOT to stay up too late! You will have a bad day!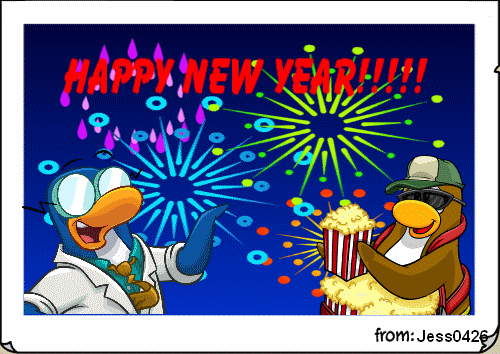 Dinosaur Jess0426 ROARS!

15:27, December 28, 2013 (UTC)
Happy birthday!
Happy birthday!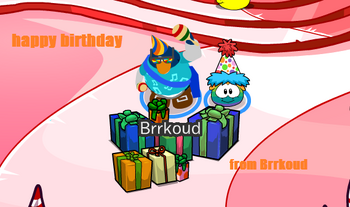 Community content is available under
CC-BY-SA
unless otherwise noted.