00:01, October 11, 2016 (UTC)~~
Blue Crystal Puffle
Hi can you add an image for the blue crystal puffle's gallery? It's a picture showing how it looks like on mobile http://prntscr.com/col3mt Nohuh212 (talk) 13:48, October 19, 2016 (UTC)
Re:Licensing Reminder
Hey thanks for the friendly reminder,
Every once in awhile I try to go back and license my files, I am pretty sure they will all get licensed at some point.
I try to do my best to get each file licensed.
Jess0426 (talk) 23:12, October 20, 2016 (UTC)
Wa
Hi dude,
An anonymous fish is wasting CPCB's RAM, pls fix (fall) (train)
Penguin-Pal (talk) 07:03, October 24, 2016 (UTC)
??
i said TWICE the fun hut room was confirmed and you still say the same thing? It is in the pss sneak peek, at least write your own reason because it is already confirmed
Superalvi100 (talk) 00:25, October 29, 2016 (UTC)
Oh
Oh hey, Wat at Suki. How u doing? I actually don't care but
CP staff commented that Holiday Party is actually Coins for Change.

You know? Coins for Change
But i don't know if they meant the party name if CFC or
You know, they are actually meaning that the party doesn't have a
Name anymore, you know, for December parties.
Even thou last year Billboard didn't had any,
Holiday Party logo or mention just CFC

So, yeah, uhh, ok.
Bye
P.H. CP (talk) 03:47, November 4, 2016 (UTC)
Oh
And also don't forget to reply to me
You know, so i know that you're alive
And to reply to me, cus, i need to know
you got the message, o rite?
P.H. CP (talk) 03:49, November 4, 2016 (UTC)
tfw edit conflicted and mobile wont let me copy my edit http://i.imgur.com/fRxM0zB.jpg –Watatsuki 03:57, November 4, 2016 (UTC)
Fiesta en PSS =/= Festa no PSS
why do we have an admin who doesnt know the difference between portuguese and spanish (ik that was old but i just saw it now)
Superalvi100 (talk) 20:40, November 20, 2016 (UTC)
hi watatsuki
I'm new to the wiki
Bean boozled number 1 fan (talk) 03:43, November 25, 2016 (UTC)
Happy Holidays by Dps04!
Dps04 wishes you Happy Holidays! Merry Christmas, and a Happy New Year!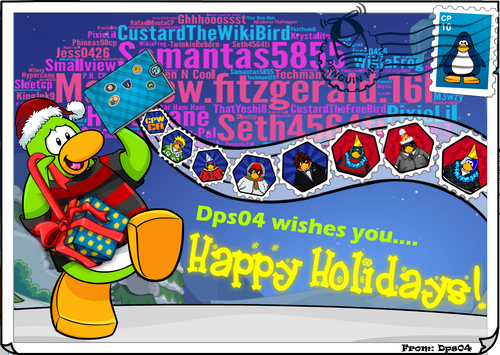 Dps04talk 05:36, December 18, 2016 (UTC)
bad news
the wat grandma is ded
Ssss...BOOM (talk) 17:50, December 19, 2016 (UTC)MCC
Merry Christmas from -TwinkieReborn-!
Merry Christmas, and a Happy New Year from -TwinkieReborn-!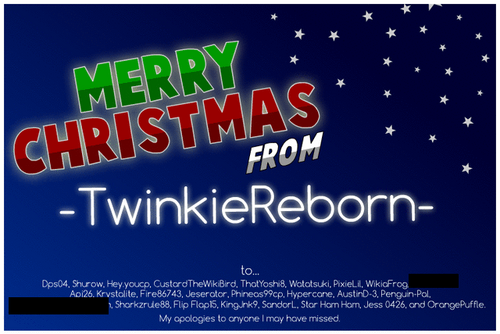 Twinkie, King of the Sandwiches. 19:44, December 21, 2016 (UTC)
Happy Holidays!
Pixie is definitely not a little pixie! 16:13, December 25, 2016 (UTC)
Subject Here
Message here.
Saymon 599 (talk) 09:22, January 8, 2017 (UTC)
Please do not send the
Request
 The Ninja5 Empire (Talk) 16:45, January 9, 2017 (UTC)

Help chatting
For some reason I can't get into chat. Can you please help?
Hello everyone here (talk) 03:10, January 30, 2017 (UTC)
Watat vs Jes
Hi bro Saymon 599 (talk) 08:33, January 30, 2017 (UTC) You should not delete pages in this wiki. Also known as, you deleted pages more Infinite Template:2e47aa bAD BOYS :)
Subject Here
Message here.
Francisco Souza Lopes Jaime Machado (talk) 00:20, January 31, 2017 (UTC) You are my sweet baboo!
Ey Watatatata
Last party logo. Better quality. Re-upload at the original file. I can't.

P.H. CP (talk) 03:37, February 2, 2017 (UTC)
Club Penguin Shutting Down :'(
Message here. I just saw a thread that you closed because you thought it was plain fake and was just stirring stuff up... well it is true, and Club Penguin is shutting down this year, which is 2015+2 so they were right. I just am amazed, but anyway, what the heck do you think of this? Blit26 (talk) 21:01, February 13, 2017 (UTC)
freaky stuff man, its a whacky world out there –Watatsuki 21:13, February 13, 2017 (UTC)
Hey uhh...
I was thinking about the pokemon games sun and moon's acroymn and if someone used it in chat (it's S&M) and considering what it is (ugh dang it gamefreak) would they get kicked/banned?? (i cant find out myself because reasons so im asking haha)
Ssss...BOOM (talk) 17:39, February 25, 2017 (UTC)MCC
Subject Here
Yo weaboo let me in chat. Thanks, Professor LY
ProfessorLY (talk) 05:10, March 5, 2017 (UTC)

Why have you just gone through every one of my edits and reverted them all?
Admins Wiki
Can you please check the admin wiki when you have some time?
Yours cheekily,

You know it is CustardTheWikiBird

19:02, April 24, 2017 (UTC)
hey Wãntatoot
You know the pics in the gallery for the CC? Can you, like, get some of these in PT for me? I don't have a phone and reliable people in the other wiki to get it for me.
P.H. CP (talk) 22:14, May 30, 2017 (UTC)
I mustn't join this wiki
Why do I have to owe to ban? I wanna joke, and you love banning me! I've waited a lot to join chat!
I think you hate me because I'm lying to you
Wikichat
1BlueDoor ummmmm i need permission to join the wiki chat cause im a lonely kid with no friends
WHAT THE?!
WHAT THE?!
I recently looked at the edit you made to the Ep. 8 - System Defender page, and you said "the virus.... does not speak". OH YEAH? THE VIRUS SHOULDA SPOKE! BECAUSE THANKS TO TOONAMI, EVERY VIRUS HAS TO SPEAK NOW! Case in point: https://www.youtube.com/watch?v=fFQev9Q9XBM (Swayzak from Toonami, the ARCHETYPE and TROPE CODIFER of sentient computer viruses.) Club Penguin probably didn't watch Toonami in 2002, so that's why they can't make their virus speak! And the only reason I put Richard Horvitz in there is because he did a great job as Invader Zim, who also had a personality shared by Swayzak and many other sentient viruses out there, and heck, Richard Horvitz could nail a sentient virus role. I'm gonna be writing many angry letters to Club Penguin Island until they update System Defender with dialogue for the virus, and get Richard Horvitz or Michael Dorn or David Wills to voice him! Stay Gold, Toonami Faithful, and you can tell me your thoughts on my unexpected rant, Watatsuki.
MUKYU (talk) 01:08, August 25, 2017 (UTC)
Subjecthereidwhybank
Y AustinD-3 (talk) 01:02, September 27, 2017 (UTC)
Thanks. I never knew about this very useful feature. 😜
Fwhoz (talk) 20:51, October 18, 2017 (UTC)
Archiving pages
Don't worry if I am making mass edits and archiving pages. I am only doing the archiving of CP classic pages since they can't be accessed anymore. There is still an effort needed to archive the remaining classic pages on here.
I can confirm that I am editing in good faith at least, since this is one of the more major projects on keeping articles up to date.
Hope this clears things up. Hiding in the shadows... 18:45, October 29, 2017 (UTC)
i... didnt say you didnt
but for clarification, changing things like [[coin]]s. to [[coin|coins.]] is pointless since coins. and coins. both work the same, text after a link does not affect the link even if there is no space, using [[example|example]] is only useful for when the text displayed would differ from the page, such as [[example|text here]]
likewise, manually adding the "archived" category is pointless as well, since the archive template automatically adds it if it is on a page
Happy Halloween from Jaden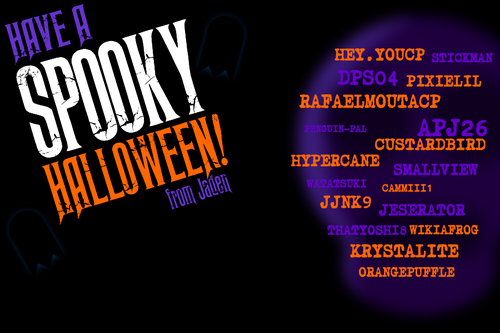 -тωιηкιεяεвσяη- 03:59, October 31, 2017 (UTC)
Re: Depth errors
Thank you Watatsuki!
Nagi123 (talk) 18:23, November 1, 2017 (UTC)
Valentine's Day Celebration free item
Hey Watatsuki,
As you can see in the swf, the Black Bowtie was free during the Valentine's Day Celebration. So what makes you undo my edits?
Thanks,
Nagi123 (talk) 08:16, December 16, 2017 (UTC)
Season's Greetings from Dps04!
Dps04 wishes you Merry Christmas, and a Happy New Year!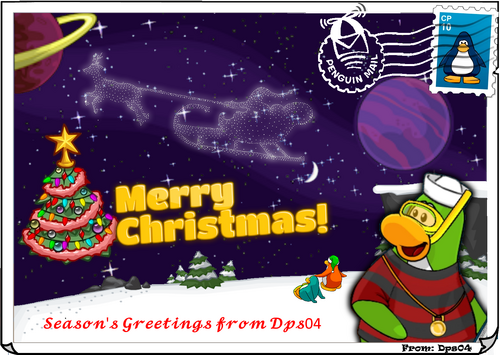 --

Dps04talk 14:03, December 23, 2017 (UTC)
Merry Christmas!
Hope you have a great Christmas!
†αкε м℮ ◎ƒƒ ᙢƴ ∂αїℓƴ ∂ᗝᔕᗴ ◎ℱ ℘αїη 18:49, December 23, 2017 (UTC)
Hi, Watatsuki!
A user recently submitted the site for inclusion in our gaming footer program. Would you be interested?
Best regards,