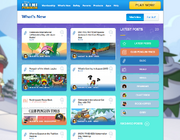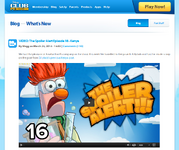 The What's New Blog (formerly known as The Club Penguin Blog, Community Blog and Developer Blog), was a blog that could be read from the Club Penguin Website. The blog was updated regularly, and announced upcoming features and events in Club Penguin. It also allowed players to comment on blog entries, but the Club Penguin Team had to check comments first, which means they were moderated.
Megg posted actively here. There was also an Archives page that allowed viewers to see blog archives.[1] However, the oldest archives were removed after an update.
Happy77 announced that a new updated version of the blog was to be released at the beginning of September. However, it was later announced that the new version was going to be late due to bugs. The blog was redesigned on October 11, 2012, and again on August 13, 2015.
Bloggers
The following people are all people who have written on the blog at least once:
Former Bloggers
The following people had previously written on the Club Penguin Blog:
Guest Bloggers
You Decide votes
Main article: You Decide!/Club Penguin
Since 2009, votes were occasionally held on the blog, under the name You Decide. They were polls with multiple options, generally three. Most polls have been for which concept would become an actual item, but polls for other things have been held too.
Comments
Users could comment on each post, by clicking the comment link above each article. These comments must be approved by a moderator, and due to the sheer number of comments, many were not accepted.
On October 11, 2012, the ability of replying to comments was released.
Since August 24, 2015, players had to log onto their account to comment on the blog. When a player posted a comment, it showed the account's age in days, and a headshot of the player's penguin.
Trivia
Names in other languages
| Language | Name |
| --- | --- |
| Portuguese | Novidades |
| French | Quoi de neuf |
| Spanish | ¿Qué hay de nuevo? |
| German | Neuigkeiten |
| Russian | Что новенького? |
See also
References
External links